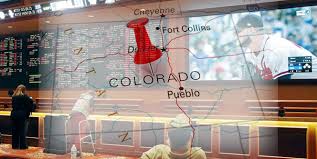 Colorado move forward with sports betting legalisation

Jonas Riis Vestergaard

Published 22/11-2019
The US now have almost 20 states with legalised sports betting in some form. This came after a vote was taken and the bill passed to allow it. This will now see the casinos in the state attempt to gain licencing from the state regulator.
The margin between the yes and no faction for the bill was 1.6%. With the yes vote having 50.8% and the no vote having 49.2%. This meant that it definitely split the population in a way not seen for a long time. It's expected that sportsbooks will begin to operate as early as March of 2020.
Bring in tax revenue
The new sportsbooks will see a 10% tax placed on their net income, from every aspect of their revenue. This will be used to fund a variety of different environmental projects within Colorado.
Struggles with racing
There is one small problem with the new legalisation of sports betting in the state though. It will not allow a sportsbook to be set up at the race track in the state. Even though the new bill has support from both sides of the Assembly, it does mean that it will be limited slightly at this venue in particular.
Large revenues expected
The Senator for Colorado said that he was extremely happy with the bill having passed. Because the new tax revenue is expected to be large he expects it to start bringing in a large amount of money each year that can be put towards conservation efforts. This includes the water conservation fund. Because Colorado are taking climate change seriously they intend to make sure that water shortages are not an issue in the state in the near future.
Positive influences
There was also support from the Republican side of the house. They feel that without the new legislation sports betting would have just remained as an underground activity. It would have led to more tax dollars being spent on law enforcement due to the crime it would create and the money spent of gambling would have been untaxed. This new bill means that the tax spend on law enforcement can go on other more important areas and there will be significant tax revenue to ensure the future of water in the state of Colorado.