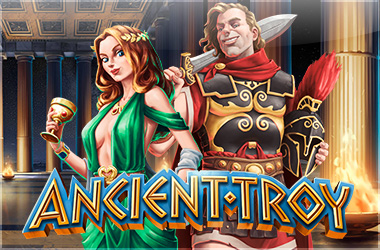 Delving into Greek Legend with Ancient Troy from Endorphina Limited

Mathias Jensen

Published 28/03-2019
Just a couple weeks ago Endorphina Limited launched their Lucky Streak 3 slot, winning praise from slot fans throughout their native Czech Republic and across the European continent. This week they have returned with another slot, a game that could prove to be even bigger and better than their last release.
That slot is Ancient Troy, a 25-payline slot that is based on the famous Greek city state best known for being at the epicenter of the mythical (or historical, depending on where you stand) ancient war.
Tackling Ancient Greece
The Prague-based gaming company announced the launch of Ancient Troy via a recent press release in which they discussed the details of the game. It will be a HTML-5 friendly video slot that is themed around ancient Greece and all of its myths, with the Trojan War just one of the stories plucked from the depths of Greek myth, legend and history and brought to life for this online slot.
What to Expect
The story of the Trojan War was first told by Greek poet Homer in his epic poem The Iliad, which is one of the oldest works of literature that we have access to today. It tells the story of the famous Greek hero Achilles, who fought in the war, and of Helen of Troy, whose beauty is said to have instigated it.
Helen and Achilles are both illustrated in the Ancient Troy video slot, as is Hector and other characters involved in the war.
This is not the first time that Endorphina Limited have tackled ancient myths and legends, but it's one of the oldest stories they have told and it will no doubt please a lot of fans of Greek history and Greek myths. Ancient Troy actually comes off the back of their Minotauros slot, which is based on the famous Greek myth of the Minotaur, a creature that lived in a labyrinth.
What can be expected from this slot?
In addition to great graphics and audio, Ancient Troy comes with a big bonus feature, which can be accessed by stacking-up the scatter symbols. This feature awards players with a hatful of free casino games, which they can use to build big wins and to keep those epic reels turning.
There are also high-paying symbols, wilds and more to lookout for.