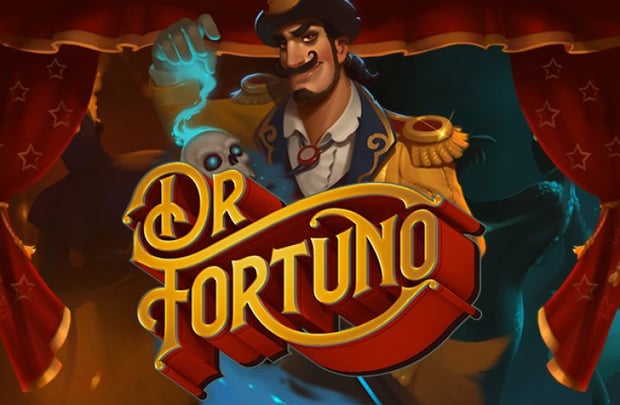 Dr Fortuno Innovation Showcased by Yggdrasil Gaming

Mathias Jensen

Published 01/05-2019
A few weeks after launching their Dwarf Mine title, a video slot that sends players on a treasure-hunting adventure through a mine, Yggdrasil Gaming are back with another big release. This time it is the turn of Dr Fortuno, a title that comes packed with features and also includes a shared casino jackpot.
Big Debuts
Yggdrasil Gaming are a subsidiary of Cherry AB, a casino operator based in Sweden. The name "Yggdrasil" actually comes from Norse mythology, which is why many of their titles are rooted in these myths and legends and have a fantastical and mystical feel to them.
Dr Fortuno is another grand, glorious and bizarre slot, but this time it takes the form of a traveling freak show and has nothing to do with Norse mythology. Dr Fortuno is a dual release that spans a five-reel and 20-payline video slot, as well as a five-player blackjack title. It's unique, to say the least, and it will no doubt appeal to the growing Yggdrasil fanbase.
The Dr Fortuno character that appears in both of these titles is the leader of the aforementioned traveling freak show and stands alongside a group of so-called "freaks", all of which are tasked with guiding the player through this weird and wonderful world, showing them things beyond their wildest imaginations.
The Slot Side
On the video slot side of things, Dr Fortuno features special wilds, multipliers, bonuses and more. One of the biggest features takes the form of wild symbols that can be "nudged" into view, as well as a Wheel of Fortuno bonus round, which can lead players toward a big bonus and several prize multipliers.
The Dr Fortuno video slot will also make use of a unique set of tools known as Boost. These tools will allow casinos that run the Dr Fortuno slot to offer a host of unique promotions, tournaments and prize drops, making this an even more exciting slot.
The Blackjack Side
The Dr Fortuno blackjack title comes loaded with a bonus bet and bonus game feature that gives players the chance to win big rewards every time they play and to secure multipliers and instant wins as they progress through the game. There is also a daily jackpot that is shared across the Dr Fortuno slot and blackjack game and paid to the player or players that get the luck of the draw.
The Jackpot
A spokesperson for Yggdrasil Gaming announced that operators would be given the chance to inject some "extra charm" into the game by taking advantage of available customization options. This includes a Countdown Feature that will dictate when the awards are paid out, increasing or decreasing the frequency and ensuring regular average-sized wins or infrequent big wins.
This is an innovation that has everyone at the Yggdrasil Gaming offices very excited, and who can blame them? They are a company on the up-and-up and in launching this cross-game innovation they have created something that will appeal to a host of players, something that their growing fanbase will instantly jump on and something that could become a classic in the near future.