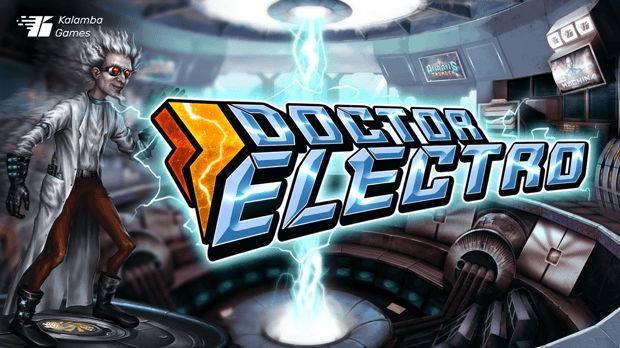 Electrifying Slot Launched by Kalamba Games

Mathias Jensen

Published 30/05-2019
Kalamba Games have added a few titles to their growing roster in the last year, and they have just announced yet another one as that roster continues to expand. The latest slot is Doctor Electro, a video slot so exciting it's shocking!
This top title is being distributed through Relax Gaming, which is a part of the Silver Bullet program, and it will soon be available on online casinos across the internet.
What to Expect
Doctor Electro has an electrifying theme and is buzzing from the first reel to the last. As soon as the game loads players will see the star of the show, Doctor Electro himself, standing on the side of the reels, looking like every crazed scientist should. He will interact from time to time as the reels spin, keeping players hooked with all kinds of fun and amusing animations.
There are a host of features to lookout of on Doctor Electro, including Hyper Bonus and Hyper Spins. The first of these is the main bonus round, returning anywhere from 8 to 25 spins once it is unlocked. The second is a free spin feature that returns 5 spins in total, with symbols that grow in size and potency throughout the round, as well as the chance to secure a multiplier and some additional spins.
It's a game filled with all kinds of collectibles and added extras and there are also bonus jackpots to be on the lookout for. These are paid out via paylines that form a combination of Doctor Electro symbols and wild symbols. There are Gold and Platinum level jackpots, both returning sizable wins.
Something New
The Co-Founder of Kalamba Games commented on the release of Doctor Electro, noting that the game has "fantastic artwork" as well as great animation and audio, before pointing to its "unique layer of player engagement" and the unique features such as Hyper Spins.
It is a game that they clearly expect to do well, and if their previous releases are anything to go by, then it should.
Doctor Electro will join other top Kalamba Games on one of the fastest growing rosters in the sector. One of their most recent titles is Mermaids Galore, an ocean-themed slot that takes players into the deep blue on a search for treasure and wonder.
Mermaids Galore bucked the trend for basic 5x3 grid formats and instead used a 5x5x3x5x5 format, which makes it standout from the crowd from the first spin to the last. It's not the only unique title on the Kalamba Games portfolio as they have a thing for doing things a little differently, and that's something that operators and players alike can appreciate.
Free spins is something everyone loves, if you want to find the best free spins bonuses at some of our favorite casinos, then you should give our Free spins page a visit here!