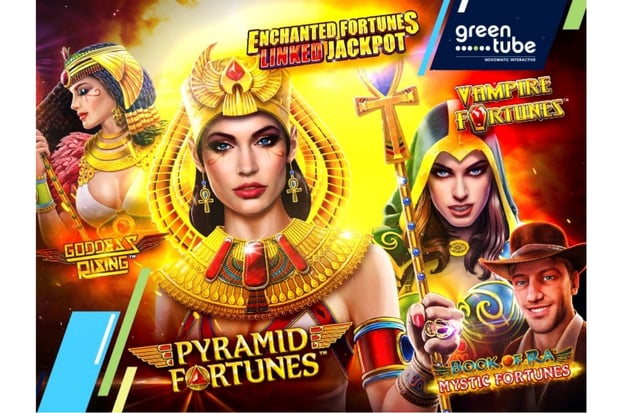 Enchanted Fortunes Linked Jackpot Game is Launched

Mathias Jensen

Published 25/03-2019
Greentube have had a busy week. It began with the launch of their 5-reel, 20-payline video slot The Great Gambini's Night Magic, and it has now culminated with the announcement of a new innovation: Enchanted Fortunes Linked Jackpot.
Greentube are a subsidiary of the gambling giant Novomatic AG, one of the biggest gambling brands in the world. They used a recent press release to announce that Enchanted Fortunes Linked Jackpot will soon be available to all B2B operators, which in turn means it will be available to countless more gamblers all over the world.
What is it?
Enchanted Fortunes Linked Jackpot is a progressive jackpot system that connects multiple jackpots together through many different video slots, including Pyramid Fortunes, Vampire Fortunes Goddess Rising, and more. Every time someone takes spin on one of these titles a very small amount of money will be added to the progressive jackpot system, and that will then payout randomly to one lucky player.
When it has been won, the jackpot will reset and start the cycle all over again. It's not a unique system, as it is one that has been utilized by many top developers to create many great progressive systems (including the Marvel Universe jackpots offered by Playtech) but the one offered by Greentube is very popular and will generate interest from players and casino developers alike.
According to a spokesperson for the brand, "Jackpots don't get any better" than what is offered through Enchanted Fortunes Linked Jackpot. They are clearly very proud of what they have to offer and when you consider that it's a jackpot system that caters for players of all stake levels, ranging from a small jackpot that pays out frequently to a huge one that pays out rarely, it's easy to see why.
Linking in Big Games
Enchanted Fortunes Linked Jackpot wouldn't work without a succession of top slots, which is just as well, because Greentube have a host of games that link in with this progressive system, with many more top titles.