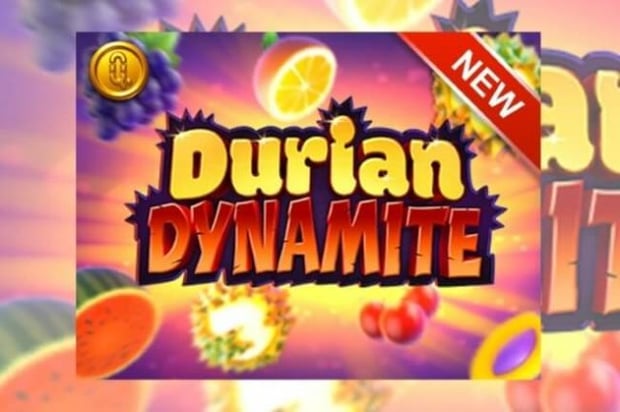 Enjoy Some Durian Fruit in Quickspin's Durian Dynamite

Mathias Jensen

Published 20/04-2019
Quickspin have created some great slots with unusual themes in the past, covering everything from the weird and wonderful, such as talking animals, to airports. But their new video slot, Durian Dynamite, surpasses everything that has gone before in the "strange" stakes as it's based entirely around the durian fruit, which has been called the "king of fruit", but has also been referred to as one of the most foul-smelling fruits in the world.
This video slot offers a unique take on a classic aesthetic. It's a fruit machine, but instead of opting for juicy cherries, oranges, lemons and watermelons, the star of the show is something that you either love or hate, and something that is rarely described as "juicy".
Durian Dynamite was released in the second week of April and quickly added to all Quickspin compatible online casinos. The news of this slot comes in the middle of what has been a very good month for the brand, as they have just revealed that 35 of their casino games, Durian Dynamite included, have been officially certified for the Swedish market, which is one of the hottest iGaming markets out there right now.
Full 3D Graphics
Durian Dynamite comes complete with fully rendered 3D graphics. They have taken the famous old-school fruit machine aesthetic and have dragged it into the modern age. It has all the hallmarks of classic slots, but with a very modern styling that is sure to keep even the pickiest of bonus slot fans happy.
Speaking of bonuses, Durian Dynamite has these in plenty supply. There are wilds, multipliers and a main bonus feature and the game also has 20-paylines (compared to the 1 to 3 found on old-school fruit slots) spread across 5 reels. There is also a very big wild symbol, which takes the form of the durian fruit, the star of the show.
This fruit is popular in southeast Asian cooking and is actually one of the most popular fruits in the world, even though it's not that well known in the west. However, its also said to be one of the smelliest fruits in the world and is an acquired taste that not everyone will appreciate.
More Fun Features
Durian Dynamite is highly volatile and comes with a 96.22% Return to Player (RTP) average. There is a also a unique middle reel that spits-out durian symbols (which is ironic, as "spitting out" is often the first thing people do when tasting this fruit) and multipliers.
On top of this players can get bonus round upgrades that add another dimension to their play and make this seemingly small and simple fruit machine as big and impressive as it could be.
These features are sure to make Durian Dynamite as popular as many classic Quickspin titles and will no doubt do well in both the Swedish and UK markets, where the game will likely be targeted. Quickspin are one of the biggest developers in the northern European market right now and if Durian Dynamite does well and that success is matched by other recent releases, including Dr. Dolittle, then we could see this brand grow considerably over the next 12 months.