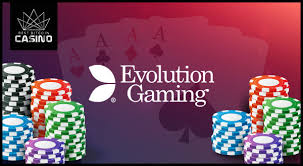 Evolution Gaming Put on a Show at ICE London

Mathias Jensen

Published 22/02-2019
ICE London 2019 was one of the best yet, with the biggest and best gambling brands showcasing their wares to their world. One of the most anticipated showcase this year was Evolution Gaming, whose software is used on the vast majority of Live Dealer casinos all over the world.
Evolution Gaming had a lot of pressure to deliver, but they managed to do just that by putting on a great show.
Ten Years of Titles
The Swedish-based Evolution Gaming took up their positions in stand N2-230 inside ExCel London. From there they showcased a wealth of great games, including games that have wowed fans of Live Dealer casinos since the early days. These titles included the hugely popular First Person Lightning Roulette as well as Free Bet Blackjack, Super Si Bo, Infinite Blackjack, and more. There were also Texas Hold-em games, dice games and other games of skill and chance.
No Live Dealer developer has come close to Evolution Gaming in terms of quality and variety, and their showcase at ICE was a reminder of just how far they have come.
A New Launch
One of the biggest features of the Evolution Gaming showcase was the announcement of a new game. They didn't tell anyone what it was in advance and said only that it was a "secret game" based on "one of the word's best loved game brands".
The game in question was a Deal or no Deal title. There have been Deal or no Deal slots before as several brands have tried to take advantage of this game's global following and seemingly endless success, but Evolution Gaming are keen to try something different with it.
They are creating a Live version simply titled Deal or no Deal Live. It will feature a "mix of random number generators" and provide players with the chance to "win big" according to the Chief Product Officer, Todd Haushalter. This game will also feature rich graphics and sounds to provide complete immersion and interactivity for fans of the TV show. It will also be available at all hours of the day, with regular jackpots and other big prizes to win.
Haushalter added that their goal was to "stay true to the game show" that is so well known worldwide. The banker will play a role in the live game as he does in the game show and there will be an element of building excitement and tension as players wait to receive an offer from him and try to make the most sensible choice.
There is a huge buzz around Evolution Gaming at the moment and this will only increase that. Evolution Gaming have added a lot of value to the online casino industry and by launching unique titles such as Deal or no Deal Live it's clear that they are still looking to innovate and evolve.