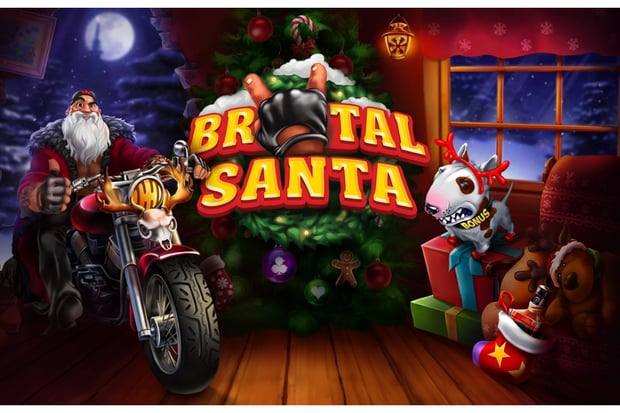 Evoplay release new video slot Brutal Santa

Jonas Riis Vestergaard

Published 14/12-2019
Evoplay have announced the release of a new Christmas themed video slot to add to their roster. The new game is titled Brutal Santa and offers a different look at the classic character.
This new game gives a look at Santa through a different lens with lots of fun and a rocking theme tune.
Santa has a completely different image for this new title. This time he's a Hell's Angel who's covered in tattoos. He doesn't land his reindeer on the roof of houses. He smashes straight through the wall with his high powered motorbike. This is a Santa who doesn't reward the good list, he rewards the naughty list.
Giving Christmas gifts
The game is punctuated by a rocking soundtrack that really gives the bad Santa vibes a jumpstart. The background looks like a normal household but it doesn't give away the chaos that's to come. The game itself has a volatility set between low and medium. There are 9 ways to win on offer and wins are shown when Santa launches one of the gifts he has onto the reels.
The gifts that land on the reels can award players a bonus as they play. There are more than six on offer to players and they offer a number of different in game features. This includes turning losing spins into wins and activating the free spins mode.
Bonus symbol
The bonus symbol in the game is Santa's dog, Waggit. This bonus will instantly give players five more spins. But there is a caveat. It can only be activated in conjunction with the free spins that Santa's gifts award.
The spins are awarded to players as either 5 spins, 10 spins or 15 spins. For them to be started Brutal Santa will have to remove the FS present and throw it at you. This will award you 5 spins. Then if the bonus symbol lands on the first or third reel then more spins can be added. Each symbol will add 5 more spins to your total.
Wild symbol
There is also a wild symbol included in the game. This is a stacked wild that fills the whole reel, but it only appears during the free spins mode and can only land on the second reel.
The creative director for the title said that they were extremely happy with their festive release for this year. Because Christmas is a big time of year they thought that it would be fun to go down a different route with this title and show a different side to Santa. The Brutal Santa offers plenty of fun and some great features to make it a highly exciting game.
Lots of new titles
Although Evoplay are quite a new company, having had their doors open for just two years, they have already managed to put together a selection of video slots that some more established developers would be proud of. This includes the extremely popular Legends of Ra. They have also embraced the VR revolution to ensure that their games are technologically innovative, something that some other developers seem reluctant to try.
Brutal Santa is fully compatible with a range of platforms, including desktop and mobile devices. It also gives players an RTP of 96%.
Signing a new deal with Betzest
This month has been a busy one for Evoplay after they signed a deal to offer their games to Betzest. This will give them a chance to grab a bigger share of the market than they currently have.