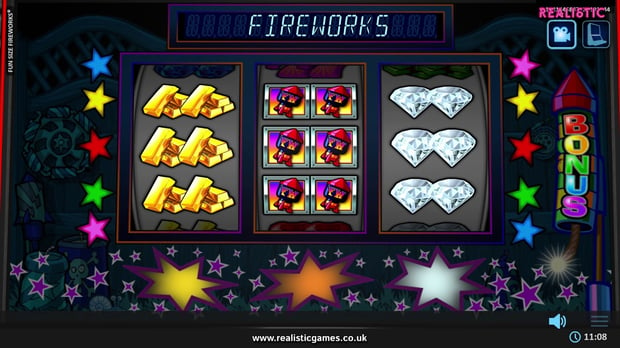 Explosions of Colour with Fireworks Slot from Realistic Games

Mathias Jensen

Published 11/10-2019
UK-based Realistic Games have just added more depth to their Fireworks slot franchise, one of the jewels in their gaming crown and one that will instantly appeal to their growing fanbase. This comes in the shape of a miniature version, a three-reel, streamlined variant known as Fun Size Fireworks.
Their goal is to appeal to players who enjoy the main 5-reel version. It contains the same high-quality graphics and features, with a bonus round that is activated when symbols become stacked on all of the three reels. A reel is randomly selected when this feature activates and a win is triggered, offering as much as 250x.
A New 3D Cabinet and an Easy Adaptation
Adapted to their 3D cabinet, Fun Size Fire Works offers players an RTP of 95.15% and has some fine-tuned, stand-out visuals, with highly immersive back lighting and original artwork to make this a truly original and stunning game.
According to a spokesperson for the brand, this game was perfectly suited for a switch to a streamlined 3-reel format. They are confident that it will become just as popular as the original casino game, which has become one of their biggest hits and stands near the very top of their gaming portfolio.
Snakes and Ladders
Fireworks isn't the only Realistic Games video slot to have been given this streamlined treatment. Prior to this adaptation, they did something similar with Snakes & Ladders, which also featured 3-reels and was built using advanced HTML5 technology to ensure it was compatible across all platforms.