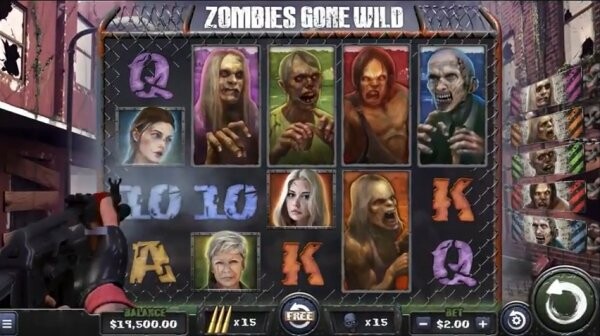 Go Wild with Zombies Courtesy of New Pariplay Slot

Mathias Jensen

Published 04/03-2019
Zombies are all the rage these days and Pariplay, an innovative online gaming developer, is looking to cash in on this trend by turning it into an online slot. The video slot in question, Zombies Gone Wild, will feature zombie hunters who tackle the undead and it will include a wealth of features as Pariplay aim to make this slot stand out from the crowd.
Zombies Gone Wild comes loaded with a feature known as Mega Wilds. These are big wild symbols are activated when one of the leading characters is exposed to radiation and becomes a zombie. Turning into a zombie is typically the end of the story for the protagonist, but in Zombies Gone Wild it's only the beginning as it could lead to big wins.
What to Expect
Zombies Gone Wild takes place in a town that has been overrun by zombies. It features all of the usual playing card symbols (10, J, Q, K and Ace) as well as three undead-fighting protagonists, zombies, and symbols relating to the infestation. Your goal is to fight the zombies, but in this story, the only real way to get ahead is to turn into a zombie yourself.
When this happens, the player becomes one of the Zombies Gone Wild and triggers an avalanche of big wilds. The wilds appear randomly on the reels, creating many winning combinations and building the player's winnings with each wild.
There is also a bonus symbol. If this lands on the first, third and fifth reels then the bonus feature will be activated and the player will receive a number of free spins.
The Managing Director of Pariplay, Richard Mintz, stated that the goal was to create a game that played great but also looked great, truly immersing the player into the game and giving them the experience many players seek. It's a game for players of all experience levels that offers stacks of features.
Jackpots
One of the big lures of Zombies Gone Wild will be the jackpots, of which there are three: one for each of the undead-fighting protagonists. Every single win with one of these protagonists will continue to increase the jackpot total and this can then be claimed by the player when they fill the corresponding jackpot meter.
These jackpots range from 25x to 200x and while they are far from the huge progressive jackpots found elsewhere, they are far more common.
Free spins are something everyone loves, if you want to find the best free spins bonuses at some of our favourite casinos, then you should give our Free spins page a visit here!
PariPlay slot machines can be played here: