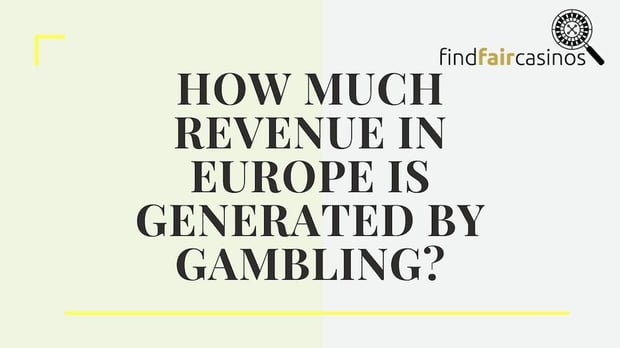 How Much Revenue in Europe is Generated by Gambling?

Osama

Published 21/03-2022
Brick-and-mortar casinos and sports shops took a hit in 2020 and 2021 as a result of the global pandemic. During this period land-based casino revenue rose by only 0.4% percent. However, because of the surge in online gambling, and the fact that many people have taken to playing at online casinos, the iGaming industry flourished during this time and grew 19% percent. When you combine both sectors of the industry, a total of 87.2 billion was generated. So what does the future hold for gambling-generated revenue in Europe over the next few years?
Gambling Revenue in Europe
When it comes to collating gambling revenue in Europe, analysts usually look at the 27 EU states plus the United Kingdom. It should also be noted that gambling, both online and land-based, consists of sports betting, casino games, poker, bingo and lotteries. The following is an outline of the projected growth in European gambling revenue from 2019 to 2025.
Total Revenue: €100.6 billion in 2019 rising to €126.3 billion in 2025.
Land-Based Betting: €74.5 billion in 2019 rising to €74.3 billion in 2025. While this figure represents 58.8% of the total revenue, it still only represents a tiny growth margin.
Online Casinos: €26.1 billion in 2019 rising to €52 billion in 2025 signifying a significant growth rate of 49.8%.
The Rise of European Online Casinos
As we move toward 2030 the revenue gap between land and online casinos will definitely shrink, which is no surprise given the large number of new sites that accept EU players. The best European online casinos also offer great bonuses, which is important for their survival in what is becoming a very competitive marketplace.
Why is Online Betting So Popular in Europe?
Covid-19 restrictions meant brick-and-mortar establishments were closed and as a result of this, plus the fact people were confined to their homes, online gaming thrived on a global level. But of course, this is not the only reason for the steady growth in the online betting industry in Europe and elsewhere. Other reasons why Europe is an iGaming hotspot include:
Strict online gambling laws introduced in the US led to offshore casinos having to locate elsewhere in order to both operate and find customers. Europe was the ideal location, especially since the likes of UK and Swedish gaming operators were emerging at this time.
European countries are home to some of the most creative and innovative software developers in the world and big name such as NetEnt and Playtech bare testament to this. Over the years many online casino game developers emerged and there are now more companies looking for a slice of this lucrative market.
There are many gambling-friendly zones in Europe such as Malta, Gibraltar and Jersey. These territories have low tax rates and thus attract many businesses. The beauty of this is where talent goes, more talent follows so you have a pool of expertise in the same area. In addition, the most reputable gambling licenses are issued by these jurisdictions.
Smartphone usage is on the rise and is fast becoming the most popular device for iGaming. Online gaming is accessible to most, can be played on the go, and has a wider choice of games than brick-and-mortar casinos.
Naturally, there is still a market for land-based casinos and high street sports shops. The Société de Bains de Mer reported a rise of 8% in gambling revenue in Monte Carlo, for in the 2019/2022 year and though it took a dip due to the pandemic, it's predicted that this figure will hold its own in the coming years.
How Gambling Revenue Boosts the Economy
In 2019 the Gross Domestic Product (GDP) generated from gambling in Europe ranged from 1.16% in Greece to 0.3% in Poland. Although Italy had the highest revenue of €18.1 billion, at 1.02% it has a lower GDP than Greece. Other countries with a high GDP from the gambling sector include Portugal 0.89% and Finland 0.85%. A healthy GDP can greatly benefit the economic welfare of a country and as we will see, many people are employed in the gambling industry.
You may often notice the "we are hiring" message on some casino web pages - and this is because they are! Revenue generated from casinos not only goes to the government as tax but also pays thousands of employees who work in the industry. For example, it's estimated that approximately 46,000 people work in the gambling sector in the UK. Front of house jobs include customer service operators and live dealers at online casinos; whilst bartenders and cashiers are visible in land-based establishments. But there are also other jobs such as graphic designers, software developers, security personnel, advertisers, coders, technicians, the guy who makes the horse blankets - not to mention the CEOs and the tailors who make their power suits…
The Movers and Shakers Behind the Revenue
…And these Fat Cats certainly need their power suits. Many well-known European casino brands were once standalone companies, but nowadays most renowned casinos belong to a group or brand. Paddy Power was once a high street bookmaker that went digital in 2000, merged with Betfair in 2016, subsequently became part of the Flutter Entertainment Group and later joined forces with PokerStars and Sky Bet among others. Other big brands include the Kindred Group which includes the Swedish Unibet and 32Red; LeoVegas, Pink Lady Royal Panda are part of the same group; whilst Mr Green Casino is owned by William Hill PLC and Caesars Entertainment. These companies are some of the big players on the world stage of the betting industry and help fuel the European economy.
Revenue from the gambling industry both in Europe and globally is quickly moving from land-based to online casinos. Mobile gaming is on the rise; new payment methods, not to mention new currencies are being introduced; games are becoming more animated and sophisticated; and you can chat to a live dealer from your favourite green recliner in your bright yellow shell suit with no questions asked. There's still plenty of interest in brick-and-mortar casinos though and hopefully there will always be. I mean, I'd even change into my black shell suit for a night at the Monte Carlo tables.