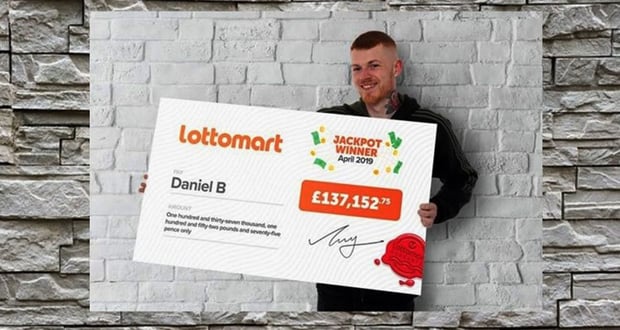 Huge Jackpot Win for LottoMart Player

Mathias Jensen

Published 28/04-2019
A doting father recently scooped a big jackpot win on the LottoMart app, collecting a prize of just under £140,000 in the process. The winner has long-dreamed of owning his own home and had struggled to get the money together to do so, but this win changed that in an instant and will no doubt have a massively positive impact on his life and the life of his child.
A Life Changing Win
The total jackpot win was £137,152,75 and was claimed on the Irish Lotto by Daniel, a retail worker with a three-year old child. He was able to match all 6 numbers on the lottery and instantly used the win to purchase a new home for him, his partner and his child, while also securing a brand new Mercedes-Benz for himself.
He used the rest of the money to clear his debts, lifting a massive burden of responsibility off his and his family's shoulders.
Speaking about the win, Daniel said that he was "in shock" and "didn't believe it" at first. He added that he instantly told his partner, only to get the same disbelieving response. The win didn't seem real until the money landed in his bank account, after which the reality of his big win finally dawned on him.
One of the first things he spent his money on was a holiday to Tenerife, after which he began his spending spree to ensure a good life for his young family.
LottoMart
Daniel's win came through the LottoMart app, which allows players to stake money on the outcome of many global lotteries. Daniel was able to bet just £2 on the Irish Lotto, but he also opted for a x32 boost, which gave him 32 lines and ensured he collected a big cash amount when his numbers came in.
As for the numbers he used, they were generated randomly, giving hope to "quick-pickers" everywhere!