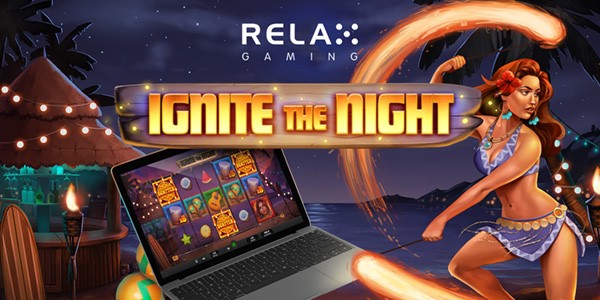 Ignite the Night with Relax Gaming

Mathias Jensen

Published 20/06-2019
Relax Gaming have been all systems go in 2019 as they look to expand operations and to become more of a force in the iGaming sector. There have been a few big deals on the table this year and they have also launched a number of new video slots, the latest of which is Ignite the Night.
This brand new slot was announced in an official press release, where they discussed the game's features and their expectations of it.
What to Expect
Ignite the Night is a 10-payline title that takes players to an immersive and beautifully designed tropical paradise, where they will be introduced to some high payline symbols and promising features. Ignite the Night also features an original acoustic guitar backing track, which helps to create more of an immersive and unique atmosphere for the players to enjoy themselves.
Players will also be given the chance to collect multiplier symbols on every base game spin. These can be used to build a sizeable return, giving players a chance to walk away with a big win.
A representative for Relax Gaming Limited commented on the release of Ignite the Night, stating that it provides players with the "perfect cocktail of relaxation and excitement", with big payouts, big features, and a tropical paradise backdrop.
Growing Company
Licensed in Alderney, the United Kingdom and Malta, Relax Gaming have received a lot of praise for their attention to detail and their unique approach to slot creation, and games like Ignite the Night are a perfect example of this.
They have described themselves as a "new breed" of content provider, and that's a statement that many of their operators and players will no doubt agree with with. The Relax Gaming rep commented on their recent activity and growth, stating that they were "determined" to show that they have a diverse range of features and mechanics, with Ignite the Night effectively showing off their "diversity" and "flair".
Top Portfolio
Ignite the Night will join a list of other top Relax Gaming titles, including Let's Get Ready to Rumble and It's Time, which they created in conjunction with Michael and Bruce Buffer, two of the biggest names from the world of Mixd Martial Arts and Boxing.
These partnerships prove that Relax Gaming are prepared to go the extra mile and spend the big bucks in order to create high quality and unique casino games. They became part of a portfolio that now includes over 570 titles and is growing with every year.