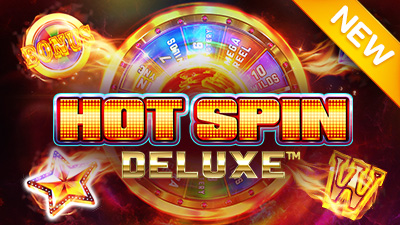 iSoftBet release sequel to Hot Spin

Jonas Riis Vestergaard

Published 28/12-2019
iSoftbet have had a busy period recently. After stepping into the marketing world in Italy to promote their seasonal Halloween title, they have followed this up by announcing the release of their newest game, Hot Spin Deluxe.
This game is set to be a sequel to the wildly popular Hot Spin. It will keep all of the things that made it such a beloved title and add to it with some new hot features. Players will see bonus multipliers added as well as huge symbols that can be played on the ultra reel.
Hot Spin but taken to the next level
Players who were fans of the original will be just as enamoured with this new title. iSoftBet have made sure to keep the charm of the original when adding in their new features. It's expected to be like a turbo version of Hot Spin.
There is still the Hot Spin wheel included. This means that it can pop up at any time during the game and give any one of the six available modifiers. There is a new addition to it though where the centre of the wheel can become engulfed in flames and add a 10 times multiplier to proceedings.
The main feature in Hot Spin Deluxe is a bonus spins round. This will come from scatters on the odd numbered reels which will then award 15 spins. There will also be a modifier chosen from the reel added to the reels. As well as all of that there can also be a bonus multiplier added on.
Spicing up the original
The CCO for iSoftBet said that they were very happy to have released the sequel to Hot Spin. They felt that even though the original was massively popular, it still had some room for improvement. They hope that they've done this by removing some of the lesser liked features and replacing them with some brand new innovations.
He also said that the new features will make Hot Spin Deluxe a game with a higher variance. This included with the big multipliers should give players a chance to grab some huge wins.
All games from iSoftBet are created to be mobile friendly. This is also the case with Hot Spin Deluxe which gives players the option to play in both landscape mode and portrait mode.
Marketing in Europe
The new slot release has taken away a small amount of buzz from the marketing campaign iSoftBet launched in Italy. This will see their Halloween slot be pushed across the country in order to increase interest.