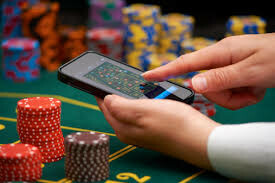 Latest Study Reveals Online Gambling Continues to Grow Worldwide

Mathias Jensen

Published 27/03-2018
The global casino gaming market will continue its expansion for the next four years at a 10%+ compound annual growth rate (CAGR) according to a recent report by Research and Markets, and it is expected that online gaming will constitute an increasing proportion of this growth.
The Research and Markets study undertook an in-depth analysis of all extant gaming markets, covering both online and in-person gambling, as well as canvassing the views of experts in the industry. The report investigated every aspect of the gaming sector and how it is expected to expand in the coming years. To assess the size of the market as it stands, all sources of gaming revenue were included.
Research and Markets consulted many of the most well-known companies offering online gaming, including 888, Betfair, Coral, Gala, Ladbrokes and William Hill, as well as real-world casino providers such as Palms Casino, Foxwoods Casinos, Station Casinos,Resorts World, and Trump Entertainment Resorts.
Social gambling and gambling apps
The report details that gaming habits are undergoing a sea change, chiefly as a result of the increase in social gambling and gambling apps. Over the last twenty years, online, mobile and social gambling have revolutionized the gaming world.
Gambling – even for small sums – has become much more popular, due to the fact that it has become more interactive, user-friendly and sociable, with the opportunity to participate in tournaments being another major draw.
The report highlighted one specific area that has militated against this growth: Some online gamblers, especially those based in the USA, experience problems making and receiving online payments through legitimate financial institutions.
The Unlawful Internet Gaining Enforcement Act (2006) created this issue by imposing a de facto ban on credit card companies and banks either accepting or making payments from and to online gaming companies. At present, this problem shows no signs of being resolved.
In the USA, nearly half a percent of government revenue is derived from the gaming industry, with bricks and mortar casinos contributing as much as 25% of profits in taxation. Online gambling, however, contributes very little to the nation`s finances as a result of the country`s restrictive – some claim over restrictive – anti-gaming laws.
Research and Markets is based in Dublin. It is the world`s largest market research company; since its foundation in 2002, it has issued more than one million market research and company reports.