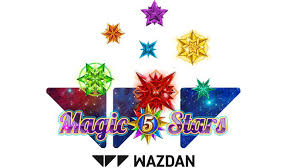 Magic Stars 5 Launched by Wazdan

Mathias Jensen

Published 20/03-2019
Wazdan had a great showing at ICE London 2019, and it was during this event that they announced their new video slot Magic Stars 5. Everyone who saw and played the game at ICE London will now get to play the game in a real online casino as it has just been released by Wazdan.
Magic Stars 5 takes players on a magical journey through the stars, a truly cosmic experience that fans of popular slots like NetEnt's Starburst will surely love. It's a video slot that has a lot to offer and should prove to be a big release for the up-and-coming Wazdan.
What to Expect
Magic Stars 5 comes with 5 reels and 20 paylines, as well as crisp graphics and impressive audio throughout. There is a backdrop of a galaxy and symbols that represent colourful planets and stars. There are also fantastic light animations played every time the player secures a win, and the bigger the win is, the better the animations will be. It's a cosmic, intergalactic experience that puts players in a chilled-out mood as they strive to win big.
The Head of Sales of Wazdan declared their excitement at the launch of this video slot, noting how proud they were to be adding it to their roster and how exciting they were to see how it was received following its great showing at Ice London 2019.
Magic Stars 5 will join countless other top slots in the Wazdan portfolio and will also fit right in alongside their many unique features, all of which are serving to increase this company's standing in the iGaming community.
New Deals and More
This release comes off the back of some big content deals for Wazdan, all of which will ensure their slots are seen and played by more people than ever before. Their biggest recent deal, without a doubt, was with Microgaming, who are the oldest online gambling developer in the world. It will ensure that Wazdan's casino games are available on the Microgaming platform, which means they will be pushed out to hundreds of top casinos and hundreds of thousands of gambling fans all over the world.