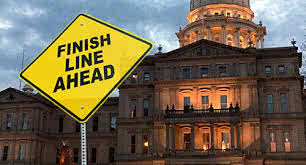 Michigan gets its first entrants into the online gambling market

Jonas Riis Vestergaard

Published 20/01-2020
Late in 2019 Michigan saw a legislation get passed that will allow sports betting to be offered for the first time. As well as this it will also see online gambling allowed. Almost as soon as the announcement was made operators were scrambling to get into the market, but PointsBet and The Stars Group managed to beat the crowd and become the first to offer the services in the state.
Lots of information
The deal will see PointsBet working with the LVD tribe in order to offer sports betting and online gambling facilities. At the same time The Stars Group have chosen to work with a different tribe which will see them offering the same services.
PointsBet have taken the decision to offer both a sportsbook that will be operated online and an online casino. This is all subject to PointsBet receiving a license, but that is expected to go through relatively easily. There is also talk that there will be a brick and mortar sportsbook opened in the future too.
The Stars Group have got a deal that is very similar in place. It has a deal to offer sportsbook services through one of the brands it already has in place but any revenue created will be shared with the tribe that The Stars Group have agreed a deal with. This will hopefully see The Stars Group increase its current levels of growth and offer superior services in the future.
Regulated and licensed
The governor for Michigan announced that sports betting and online casinos would be legal right near the close of 2019. This meant that instantly a number of companies applied for a licence to carry out the two services. This is expected to create a large amount of revenue for Michigan with some heavy taxes placed on revenues for the different casinos.
In Detroit the tax revenue is expected to be higher as there is a duty tax in place on top of the standard tax on casino revenue. This means that casinos can pay over 25% in taxes if they choose to operate within Detroit.