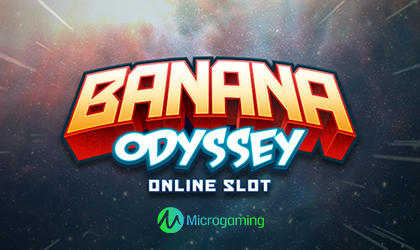 Microgaming and Slingshot Studios work together to deliver new video slot

Mathias Jensen

Published 30/09-2019
Microgaming have used one of their subsidiary studios to create Banana Odyssey. Slingshot Studios have been working on this title for a long time and finally it's ready for release.
The game uses the Quickfire platform for its game engine and includes five reels for players, there are also 10 ways to create a winning line. Banana Odyssey is set in space and features two chimpanzees who have trained as astronauts. Their mission is to get to Banana Planet and get their hands on their most beloved snack.
The RTP for Banana Odyssey is a very healthy 96.31% which gives players plenty of chances to bring in a win. There are also a range of bonus features that will help players to utilise the 10 paylines that are included within the game.
Plenty of excitement
The graphics for Banana Odyssey are absolutely excellent. Slingshot Studios have put their best work into this title and it really shows. There are some great tunes being played too, the overall aesthetics for Banana Odyssey are some of the best on the market. The two chimps fly off into the great beyond in order to try and grab big wins and they also make up some of the symbols on the reels. All of the high paying symbols are space themed and the two chimps pay out the most, with 10 times your stake for a full payline. What is really good is that the paylines pay both ways, so there are essentially double the number of paylines available.
The wild symbol in the game is the Banana Planet itself. It appears on the second, third and fourth reels. What is so good about this is that it expands when it lands and triggers a respin feature. The stacked wilds then become sticky which allows for more big wins to be earned. If another wild lands on the reels then they will also become sticky and another respin is awarded.
Regular features and bonus spins
A bonus spins feature will also be activated when three scatter symbols land on the middle three reels. Players are given 10 free spins and taken to a new area to play the game. The sticky expanding wilds also gives players the opportunity to grab huge wins in this bonus mode.
Banana Odyssey is a medium variance title that should appeal to both high-rollers and smaller bankroll players. Microgaming has released a statement that said a number of things. They feel that the game is one of the most innovative and interesting titles on the market at the moment. Microgaming will also be giving Twin an exclusive period of two months to host the game. This is because they had the initial idea for the game when Microgaming ran a program with casino operators to allow them to give ideas for games that they would like at their venues. They also said that they were delighted with the work that Slingshot Studios carried out. The overall look of the game is fantastic and that is completely down to them.
High expectations
Slingshot Studios offered a similar thought process to Microgaming. They are extremely proud of the title they have created and are looking forward to seeing the feedback from players. They hope that this will ensure that Microgaming have confidence in them to continue creating titles for them in the long term.
One of many Microgaming partners
Slingshot Studios are quite a new studio on the market. They were established just three years ago and were only brought into the Microgaming fold last year. They have been creating quite a buzz for themselves recently and it was the incredible popularity of their title Cash of Kingdoms that helped to persuade Microgaming to bring them into partnership. Both Cash of Kingdoms and their new title Banana Odyssey are available on mobile devices.
Signing more new deals
The new title isn't all that Microgaming have been working on recently. They also signed a new partnership deal with Rootz, who are based in Malta. This will allow Wildz Casino, which is a subsidiary of Rootz, to offer Microgaming video slots to their customers. This will include all of their top titles which make up some of the most popular casino games on the market, and will also include Banana Odyssey once the two month exclusive deal with Twin is up.