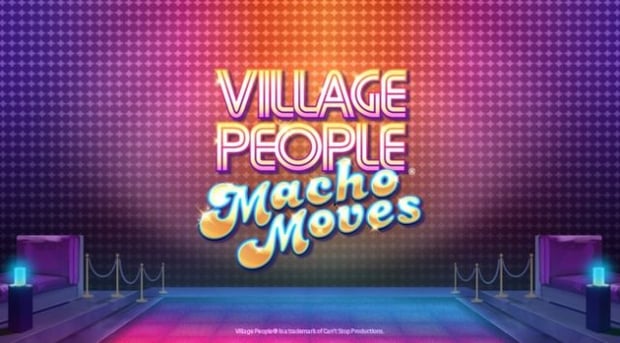 Microgaming Launch New Slot Based on Village People

Mathias Jensen

Published 12/07-2019
Everyone who lived through the 1970s or was born shortly afterwards will have fond (or not so fond) memories of throwing their hands in the air to spell "Y. M.C.A" at the first sound of the classic Village People song. It was camp, it was fun—it defined a generation of music.
If you were one of these people then you'll be glad to know that Microgaming are bringing the spirit of the Village People and the 1970s back with a video slot based on this musical group. The slot in question is Village People Macho Moves and it was developed for Microgaming by their partner studio Fortune Factory Studios. In addition to lots of classic 1970s visuals the Village People Macho Moves video slot features a dance-worthy soundtrack that includes all of their classic songs.
What to Expect
Village People Macho Moves uses a 6-reel and 15-payline setup and features a host of disco visuals and sounds, bringing the disco era from the 1970s back to life. The members of the Village People are the main focus of this game's aesthetic and they can be seen in the base game and in the bonus round.
These pop superstars are all fully animated and look fantastic as they move across the reels and dance while the players spin. To make things even more exciting for fans of this group, the music that they dance to is their own, as Village People Macho Moves features songs such as "In The Navy" and the titular "Macho Man".
Village People Macho Moves features symbols such as platform shoes, retro sunglasses, and the obligatory mirror balls. Players are tasked with building a Win Meter which can trigger one of 6 different bonus features. What's more, each member of the group will add their own special features to the round:
• Construction Worker: Provides a random multiplier that begins at 2x and goes all of the way to 20x.
• Biker: Upgrades symbols, swapping the low-paying ones for some high-paying ones.
• Cop: Provides between 2 and 4 random wild reels prior to each spin taking place.
• Cowboy: Adds between 2 and 12 random wilds to the reels before each spin.
• Native American: Adds 2 walking wild reels which move along the reels as the spins take place.
Big, Bold, Fun
A spokesperson for Microgaming added their thoughts to an official press release announcing the launch of Village People Macho Moves. They called the game, "Big, bold and brilliantly fun", before pointing to the unique visuals and soundtrack as being two of the many standout features that Village People Macho Moves has to offer.
"Fortune Factory Studios have excelled" they added, and it's hard to disagree with them. Village People Macho Moves is a very attractive and unique online slot and one that will appeal to a large number of players.
Lots of New Content
The launch of Village People Macho Moves was announced during a very busy time for Microgaming. Within the last couple of weeks they launched two other big slots, Ruby Casino Queen and The Smashing Biscuit.
These two games, like Village People Macho Moves, provide unique themes and top-drawer features. They can be enjoyed in demo mode on many online casinos or on the Microgaming website, and they can be played for real money on compatible casinos.