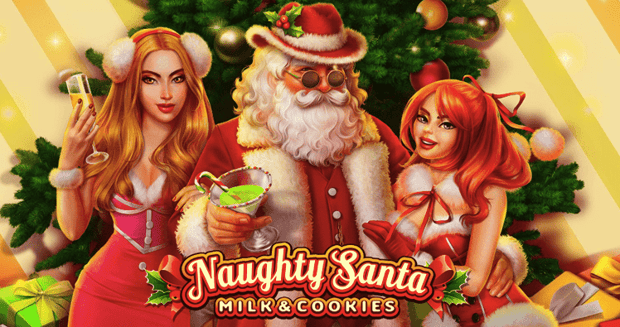 Naughty Santa Milk & Cookies released by Habanero

Jonas Riis Vestergaard

Published 15/12-2019
With Christmas quickly approaching it comes as no surprise that Habanero have announced the release of their newest video slot. Naughty Santa Milk & Cookies is a new slot that has a festive theme. Everything about this game is geared towards providing an enjoyable Christmas experience. It also adds a little risque humour to go with it. Santa is naughty in this game because he is trying to find the four gorgeous women that also appear on the slots. There are also plenty of features to go with them.
What's on offer?
Whenever you hit the spin button in Naughty Santa Milk & Cookies there will be a multiplier applied to any wins you create. This multiplier can be anything between 1 and 10 times the usual win. The value changes at random as you play.
There are also cracks that can appear on the reels. These crackers can explode at any time during the game. When they do they can add wild symbols on the reels. As many as four can appear at a time. This will obviously make creating a win more likely. The gorgeous lady symbols can also appear as mega symbols which helps big wins to be created.
In a press release Habanero stated that the scatter symbol will be what activates the bonus spins round. This will award players between eight and 25 free spins.
Extreme festive experience
Naughty Santa Milk & Cookies is the newest slot that Habanero have released since their last holiday themed slot. During October they released a Halloween themed title, Hot Hot Halloween. This was a video slot that had plenty of bonus features and the ability to earn free spins. Both of these titles are examples of high quality seasonal slots that can be played at any time of the year.