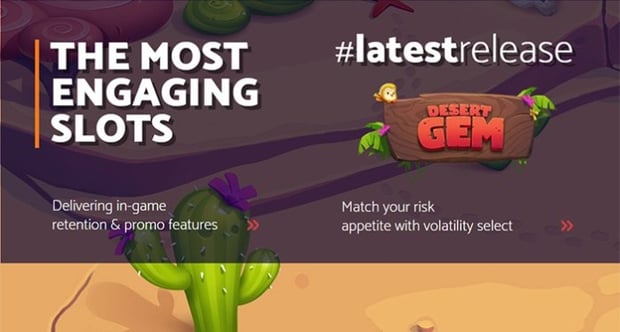 New Desert Gem Slot Released by Kalamba Games

Mathias Jensen

Published 28/02-2019
This week marks the launch of a brand new treasure hunting slot title from Kalamba Games: Desert Gem. As the name suggests, this online slot takes place in the desert and comes packed with bonus features, bonus jackpots and other desirable features. Players are tasked with searching through the desert environment to finding a host of treasures, and there are plenty of features to keep them interested along the way.
What to Expect
As Desert Gem begins players will be tasked with choosing how many gold symbols they want. These symbols are just like the game's standard symbols, only they are coated in a glistening gold and they return bigger payouts than the standard versions.
There is also a bonus symbol that comes in the form of a pink diamond. If players get three of these anywhere on the reels they'll get a 2x multiplier in addition to 10 free spins. If they land a further two of these symbols with any of their free spins they will trigger an additional 3 spins!
The bonus jackpot on this Kalamba Games title is unlocked when a combination 18 or more gold symbols land on the reels. There is also a gold wild symbol that can count as one of these 18, as well as a 2x wild that counts for 2 and a 3x wild that counts for 3.
There is also a bonus collection feature whereby players are tasked with increasing a bonus meter as they play, after which they can trigger different levels of bonus spins, beginning at a modest Bronze level and going all of the way to a very lucrative Platinum level.
There's a lot going on with Desert Gem and a lot of chances for players to win big. Kalamba Games have once again outdone themselves.
Free spins is something everyone loves, if you want to find the best free spins bonuses at some of our favorite casinos, then you should give our Free spins page a visit here!