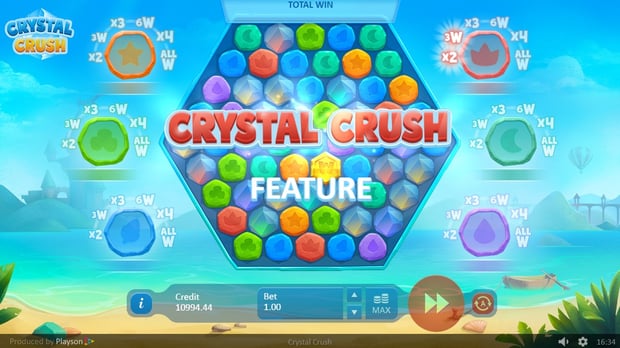 New from Playson: Crystal Crush

Mathias Jensen

Published 02/02-2019
It seemed for a few months as if Maltese developer Playson had gone to ground, perhaps working on some secret plan to take over the world … Claws vs. Paws was released March 2018, a reworking of the old cops and robbers game with adorable furries taking the starring roles, but then nothing … until the intriguing December 2018 release, Crystal Crush.
An innovative offering from a developer more usually known for its jester- and fruit-based slots, Crystal Crush took Playson's range in a new direction. So what makes it different? Well, there are no reels, for a start. It's a slot, but it's a slot on a grid - a hexagonal grid, to be precise, on which players have to create clusters of matching symbols to win, with a total of 61 positions possible. The traditional multipliers and wild symbols give six levels of bonuses.
Wagers are placed in coins, from 0.25 to 100 per spin, but winnings are not paid from paylines but from a new cluster pay mode. Five matching symbols earn a payout, with nine or more matching symbols bringing in the maximum win.
As soon as a winning combination pops up on the grid, the matching symbols will disappear, and new ones flash up to replace them so players can immediately set about creating more winning combinations. The more wins, the more special Crystal Bonuses are collected; when enough crystal symbols have stacked up, the special bonus is triggered.
The game features multiple levels of bonus options, each yielding a multiplier on future wins which lasts the duration of the round or, alternatively, adding in a random wild. In the sixth and top-level, for example, symbols of a given colour turn wild.
Play this slot machine at one of our recommended casinos: