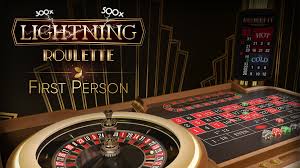 New innovations for Evolution Gaming

Mathias Jensen

Published 05/08-2019
Evolution Gaming is signing multiple deals at the moment. The market leader in live casino games has recently signed a deal with SKS365, but they have also released some new information to the market. Their current partners will be able to use new first-person versions of their newest and most popular pieces of technology.
Big players
Evolution Gaming has revealed that two of their top live casino games, Dream Catcher and Lightning Roulette. These games will have first-person versions offers to operators. This means that the two award-winning titles will be updated to help spur on the next generation of innovation within the live casino market.
Dream Catcher
While talking about the new version of Dream Catcher, Evolution Gaming said that it is essentially the same title that has enjoyed massive levels of popularity. It includes the spinning wheel and the ability to place wagers on the target where the wheel will land. However, the new first person version will take players right into the game and help to increase immersion on a game that was already known for its immersive qualities.
Lightning Roulette
Lightning Roulette was one of the first live casino games to really combine software with live casino. It added an extra feature to the traditional Roulette where a bolt of lightning could add lucky numbers to the wheel. The new first person version of the game creates the ability to really feel as though you're playing in a casino in a more realistic fashion than ever before. Add to this, the 500 times your stake potential win with Lightning Roulette and you have a winning combination.
New innovations keep moving
A Spokesman for Evolution Gaming revealed that the new first person versions of their famous games will also contain their patented Go Live feature. This allows players to transport straight into a live version of the game immediately. He said that the move between the two titles will be almost seamless. This is because the rules behind the two different versions of the game are identical and the interface is also exactly the same.
Evolution Gaming feel that they are using their position as a market leader in live casino games to innovate rather than stagnate. They also claim that they are offering features to players who have been loyal to them. The live version of their games means that players can easily gain a more immersive experience, but with the first person versions of their game, they are attempting to create a casino world that players will love.