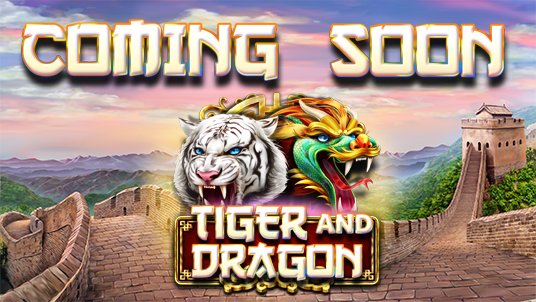 New Tiger and Dragon Slot Announced by Red Rake Gaming

Mathias Jensen

Published 18/01-2019
Red Rake Gaming has announced that it is set to release a new slot game this year called Tiger and Dragon. Players will find themselves in ancient China where they will be met by a white Bengal tiger and a ferocious dragon. The prizes are waiting to be uncovered, but they are fiercely protected by the two creatures.
Exciting Features
Players will enjoy a unique video slot experience that offers a range of immersive gameplay features. The Tiger and Dragon Roulette feature is the first on offer, and this mini game gives plyers the chance to choose between the two before they spin. Multipliers can be earned based on the results of the spin.
An accumulator roulette feature is also on offer. This is activated when certain symbols appear along with multipliers. A flurry of activity on the board will create matches!
Bonus spins are also on offer. When five or more are accumulated in the same spin, the players will be rewarded with bonus spins. There is no limit to when this takes place, meaning that players can enjoy regular bonus rotations.
HTML5 Content
HTML5 was used to create the online slot game, meaning that the game is responsive and can therefore be enjoyed on either desktop or mobile devices. Landscape and portrait mode are available on mobile and the mode can be selected before spins are made.
There's a lot on offer for both beginners and advanced players – great visuals, unique symbols and great sounds come together to create a great experience. A large 6x10 grid breaks the traditional format to create an intriguing experience.