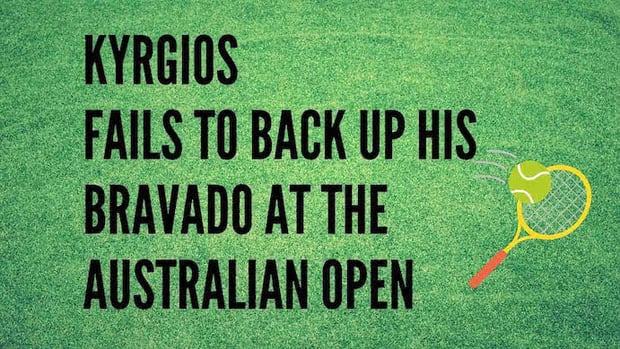 Kyrgios fails to back up his bravado at the Australian Open

Published 19/02-2021
'A tool' is how Nick Kyrgios branded Novak Djokovic following the World Number 1's demands for more lenient conditions for the players' quarantine period ahead of the Australian Open. Never one to shy away from speaking his mind, Australian Kyrgios has gained infamy throughout his career for a variety of brash comments and questionable behaviour. While many in the tennis community shared the sentiment he expressed over Djokovic's strange list of demands, that hasn't always been the case for the 25-year-old.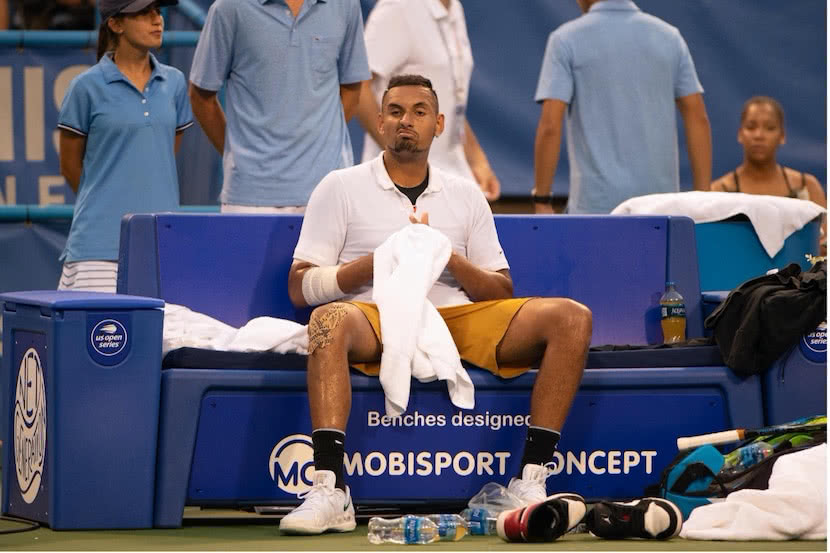 source: Shuttershock
For all Kyrgios' bravado, a couple of quarter-final appearances is all he has to show for his Grand Slam attempts, and with his recent defeat in the third round of the Australian Open, where he was an outsider in the Australian Open tennis odds, that disappointing run of Slam results has continued. He is a player who once boasted the potential to be a regular tournament winner, and there is still a lot about his game which lends itself to success at the highest level, but Kyrgios' attitude has frequently held him back on his quest to become one of the sport's best players.
Usually a courter of controversy, Kyrgios has gone up in the estimations of many through his handling of the coronavirus pandemic, and in using his social media platforms to highlight the danger the virus poses. But despite that there is still an underlying petulance which defines him on and off the court, and the fact that he is better known for his arrogance and outlandish behaviour suggests that there is much to do in terms of his game.
Currently ranked 46th in the world, the Australian Open was a chance for Kyrgios to forget petty squabbles on Twitter and focus on delivering a strong showing at his home event, where his best finish is still a quarter-final exit to Andy Murray in 2015. But once again, constant arguments with the chair umpire meant that the Australian came across as immature, and although he performed admirably to take a two-set lead against Dominic Thiem in the third round, the Austrian made his quality count in the end.
Last year, we saw players breaking through and challenging the elite – namely Thiem's victory at the US Open to secure his maiden Grand Slam title, and Daniil Medvedev's triumph at the ATP Finals in London. Kyrgios undoubtedly has the potential to win big tournaments too, and he'll have been hoping that the Australian Open would provide a similar springboard for his career, but instead it was the same old story of disappointment and unfulfilled talent.
What goes against Kyrgios is the fact that tennis has become a sport in which a stony, calculated personality can yield the most success. Any individual sport requires immense concentration and composure, and it's fair to say that the Australian has been lacking in those qualities throughout his career. Where tennis' top stars were once men of personality and controversy – the likes of John McEnroe and Jimmy Connors – now the cold, hard, winning machines are the ones who share the sport's lucrative spoils.
The key for Kyrgios as he moves on from this latest disappointment is to find a middle ground – not to lose the quirkiness and brutal honesty which makes him so engaging for tennis fans, but to shake off the petulance and the arrogance, and develop a steely exterior which will lend itself to future success in the modern game. That seems unlikely, however, and it would be a shock to see the Australian go far in the remaining majors this year.
For all his character and bravado, Kyrgios is lacking the Grand Slam record to back it up, and his defeat to Thiem was a microcosm of his entire career – promising much but ultimately failing to deliver, all while picking fights and coming across like a spoiled child. The world of mouthiness and bullheadedness in tennis is one that faded away decades ago, and it seems that Kyrgios has found himself in the game about 40 years too late. He is entertaining, for sure, but true success in the sport's Grand Slams seems destined to elude him forever.