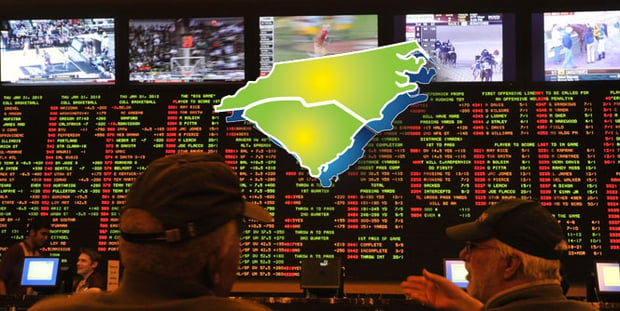 North Carolina Moves Closer to Legalizing Sports Betting

Mathias Jensen

Published 24/04-2019
The North Carolina Senate recently approved a bill that could see the betting landscape change significantly in this state. The bill goes into detail with regards to allowing certain types of sports betting to take place in North Carolina, but in simple terms it will allow two Native American casinos to offers sports betting facilities to their already expansive list of casino games.
The Bill
The aforementioned bill, which has been given the name Senate Bill 154, cleared the first hurdle when it made it through the 50-strong North Carolina Senate with a huge margin of 43 votes to 7. The next step is for a similar vote to take place in the North Carolina House of Representatives, but with such a big margin in the North Carolina Senate, all signs are good so far.
The bill was created by Jim Davis, a Republican State Senator, toward the end of February. He created it at the request of the local Indian Gambling tribes, and it will greatly benefit these tribes and the casinos that they operate.
It means that Harrahs Cherokee Casino Resort and Harrahs Cherokee Valley River Casino and Hotel will both welcome sports betting facilities. Experts have estimated that the tribe will profit to the tune of an extra $14 million per year, with $1 million of this going to the state in tax revenue.
It could also provide more jobs and an increase in tourist revenue, so the benefits are potentially much greater than it would appear at first. Jim Davis was also quick to point-out that the success of the casinos in the area had contributed to the building of a hospital and the establishing of several social programs that have contributed greatly to the area.
However, the bill isn't as expansive or all encompassing as some players might hope. It will not allow any form of online sports betting and the facilities mentioned will not be able to offer mobile betting either. This might change in the future and Senate Bill 154 could pave the way for that, but for now at least it will only allow in-person sports betting.
PASPA
The introduction of this bill follows the invalidation of the Professional and Amateur Sports Protection Act (PASPA), which had made it very difficult for casinos outside of Nevada to offer sports betting. This law was scrapped last year, allowing a number of states to setup their own laws and pass their own bills, and there have been a number of bills passed through since then.
Of course, these bills are not processed over night and it's unlikely that we'll see major national changes within the next year, but the sports betting landscape in 2021 could look decidedly different to how it looks now, and that will be the result of legislation like Senate Bill 154.