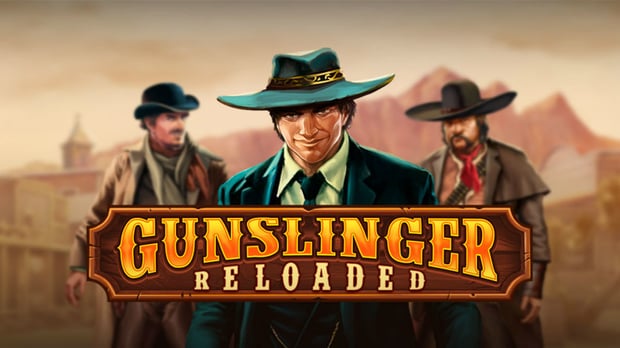 Play'n GO Release Brand-new Slot Gunslinger: Reloaded

Mathias Jensen

Published 14/11-2018
Gunslinger: Reloaded is a hugely entertaining Wild West-themed slot by Play'n GO and is yet one more high-quality offering in the game developer's ever-expanding portfolio. This latest title is a five-reel video slot that immerses players in the dangerous and enigmatic world of a wandering cowboy known as the Gunslinger as he roams the country tracking down the Wild West's most wanted.
Bounty hunter
The Gunslinger makes his money by collecting bounties placed on the heads of criminals. By spinning the reels, players can enjoy the Gunslinger's exploits as pursues the Wild West's worst criminals.
Gunslinger: Reloaded offers players three exclusive features to make the adventure-themed game even more thrilling. Through the avatar of the Gunslinger, players can hone their shooting skills as they aim at playing cards to win a jackpot or empty bottles to win additional spins.
Bounty Hunt is another exclusive feature of Gunslinger: Reloaded and gives players the chance to chase the biggest of the cowboy's bounties through a town in the Wild West. The chase culminates in an electrifying shootout where the Gunslinger and his would-be bounty go head to head.
Play'n GO's Chief Executive Officer, Johan Törnqvist, is excited about the game's potential, explaining, "The Western genre is extremely popular and well-known all over the world so, when designing a game like this, you have to be very faithful to the conventions of the genre. Our producers made sure that the game captures the look and the feel of the Golden Age of Westerns, in both the main game and all of the added features, containing some of the most popular elements, to give players an immersive experience."
Hot on the heels of Iron Girl
Gunslinger: Reloaded comes hot on the heels of Play'n GO's other recent title Iron Girl. Released in early October, Iron Girl offers players an exhilarating adventure in space with an intergalactic woman bounty hunter. Travel across space to track down interstellar baddies or brave the Wild West to find your bounty, Play'n GO players can choose either adventure or try them both!