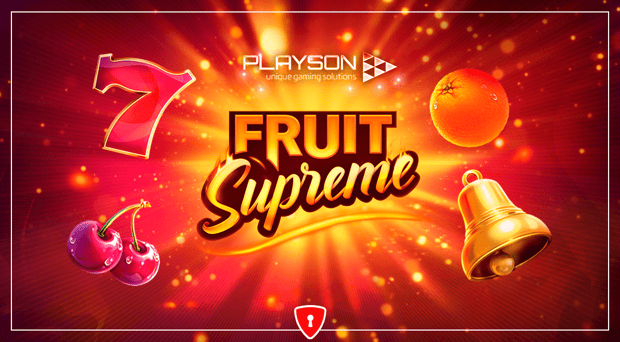 Playson launch Fruit Supreme: 25 Lines

Mathias Jensen

Published 26/08-2019
Playson has added yet another title to their Timeless Fruit Slots series. The newest addition is called Fruit Supreme: 25 Lines and looks to be their juiciest title yet.
As the title suggests players will be playing a classic themed fruit machine, but with the addition of 25 ways to win. With a range of different fruits on offer, players can't wait for this game to be available!
The slot is a 4 by 3 grid and the highest paying symbol in the game will not just give players the biggest win, but if they manage to fill the whole grid with them, they will also double the value of the win.
Top-level visuals
The game has a retro theme which includes all of the features that players of old school fruit machines will know and love. They add this to a great looking background which includes a number of different visual effects hiking the aesthetics of the game up by a few notches. Animations are played whenever a win is created and when a big win happens, a special animation plays.
The Playson spokesman released a statement saying that they feel the modern aspects added to the classic fruit machine format will give players the perfect mix of nostalgia and innovation. Because they have made Fruit Supreme: 25 Lines to look great, it will ensure players will not be put off by substandard graphics. It is expected to continue down the line of success of the Timeless Fruit Slots series.
Loved by all
The game itself has a variance that sits in between medium and high. On top of this, it gives players a very generous 96.27% for an RTP. Because the game was created in HTML5 it can be used on a wide range of different platforms, including desktop and mobile. It will allow players who have been playing for a while or new players to easily play the game.
In line with regulations
The game was also tested to an extremely high level. Because Playson wanted to release it on the Swedish market, it had to go through a number of different checks before it could be passed as clear by the regulators.
Playson has been releasing a high number of grade A titles recently and because of this, they have been getting more publicity than ever before. The Timeless Fruit Slots series of games will only continue to increase this level of name recognition.
New deal
Betson has also signed a new deal with one of the top casinos on the market recently. With a new tie-up with Meridianbet, it will see some of the most popular games that Playson offer on their platform, including the Timeless Fruit Slots games. It will also see new releases making their way there, which will add prestige to both brands.