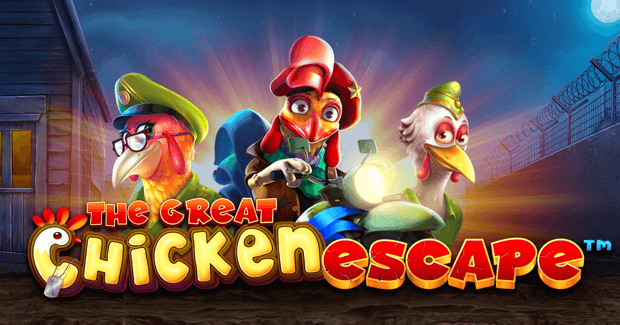 Pragmatic Play's announce new title The Great Chicken Escape

Mathias Jensen

Published 18/09-2019
Pragmatic Play have released another top tier video slot, The Great Chicken Escape. In this game, players will be able to play a well crafted and extremely fun video slot. There are a large number of features on offer for the players, more than most other online slots on the market, and it has a standard five reels to make sure that players can easily access the game.
Plenty of extra features
The main character of the new game is a chicken named Charlie. He will be attempting to escape the coup with his gang of dangerous chickens. There are plenty of different bonus features offered, all of which are activated by the bonus symbol. You don't get to choose though, you simply get a nice surprise as the features are triggered randomly. The main bonus is turned on when you manage to land five bonus symbols.
One of the great bonuses that are on offer in The Great Chicken Escape is when you travel to a secret tunnel. This is obviously an attempt for the chickens to try and escape the chicken coup, but you can win prizes while they do. You can also get sent to a mystery tunnel which can take you to one of the different bonus features that are included in the game. It's a great bonus round that gives a high potential for reward.
The main bonus in this casino game is the Big Money Bonus. This is where you can win the really big prizes. During this round, you will see 12 wooden barrels begin to spin around the reels. Every single one of the barrels has a prize inside it. When you choose a barrel, you are awarded the prize. Once you have made your choice, you will either be given another chance to choose a barrel or the prize you have earned.
Pragmatic Play have released a statement that says they are ecstatic with the way The Great Chicken Escape has turned out. They feel it's one of their best slots yet and the wide range of features that they have included will help to keep players engaged and exciting for a long time. They sincerely hope it will be one of the biggest hits of the year.
Plenty of wild symbols
There are a number of different wilds available to players. Both the guard dog and the rooster are wilds can appear on the reels. The guard dog will arrive randomly and adds as many as 9 wild symbols to the reels.
There can also be chicken run wilds that pay homage to the film Chicken Run, something the slot has a lot in common with. These wilds turn between two and four of the reels wild.
More new slot releases
This isn't the only slot that Pragmatic Play have released lately. They have also made an announcement about another title, "Vampires vs Wolves". The title is thematically different to The Great Chicken Escape. It offers a little more of a dark theme that is designed to spook players more than amuse them. However, it still has a range of different features, including the ability to earn some highly lucrative free spins.