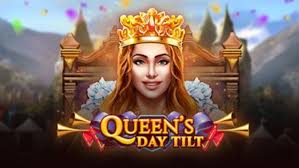 Queen's Day Tilt Slot Launched by Play'n GO

Mathias Jensen

Published 26/02-2019
Play'n GO are one of the giants of the online gambling industry and they have further cemented their status this year with the launch of a new slot: Queen's Day Tilt. This video slot actually launched on Valentine's Day 2019, but if you take a spin expecting to see love hearts, then you're going to be in for a surprise.
What to Expect
Queen's Day Tilt features the Queen, who takes charge as the wild—the biggest and best symbol on the game. The game screen is a standard 3x3 grid, with payouts beginning when players land just 2 symbols in a horizontal or vertical line.
In addition to the Queen wild symbol Queen's Day Tilt also has bonus symbols, multipliers and high-paying game symbols. There is also a re-spin feature of sorts, albeit one that has been given a new twist by Play'n GO. They love to do things a little differently and to provide something that even the most hardened of online slot fans won't expect, and they have done that again here with Queen's Day Tilt.
One of the features to lookout for on Queen's Day Tilt is the Queen's Day feature. This gives players a total of 5 bonus spins in addition to a starting multiplier of 2x that can grow as the players collect more wins.
There is also a feature known as Game of Accession, where players strive to make it to the throne and to collect stacks of payouts as they do so.
More on the Way
Queen's Day Tilt will join top recent titles like Wild Falls, which has already attracted a lot of praise in the gambling community. These titles show that Play'n GO have big things planned and are keen to tackle some of their more productive competitors.
Whatever happens, 2019 could be big year for them and for the gambling community on the whole.