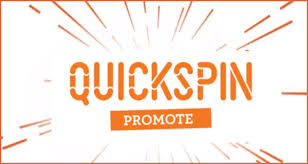 Quickspin premieres Challenges in-game video slot advance

Mathias Jensen

Published 10/01-2019
After only premiering its 'Achievements Engine' and 'Achievements Races' promotional tools, last year, Swedish online casino games developer, Quickspin, has announced the launch of its latest innovation: 'in-game Challenges'.
Additional Gameplay
The Stockholm-based firm issued an official press release on Monday to describe its latest advance as a 'pioneering industry loyalty tool' that enables next-level gameplay to be added to its existing portfolio of video slot games.
Miniature Game
Established in 2011 and later acquired by Playtech, Quickspin stated that Challenges is, essentially a miniature game within its current video slot offerings that allows dedicated players additional chances to unlock prizes. Quickspin further stated that its latest innovation has been 'fuelled by the outcome of spins from the slot game' and will challenge players to guide a character through a maze to earn their additional rewards.
Complete Roll-Out Planned
Daniel Lindberg, Chief Executive Officer for United Kingdom and Alderney-licensed Quickspin, revealed that the new Challenges innovation has already gone live on his firm's five-reel 'Dwarfs Gone Wild' and 'Goldilocks and the Wild Bears' games, but will soon be added to all of the developer's video slot games.
Lindberg's statement read:
"We are absolutely delighted to launch Challenges. We've designed this retention tool to offer some extra excitement with our slots and hope that it will give our players the chance to enjoy playing Quickspin slots that extra bit more."
Year of Success
Lindberg further proclaimed that the launch of Challenges had capped what has been 'a hugely successful year' for the developer following its premiere of 'Dwarfs Gone Wild', 'Eastern Emeralds' and 'Ark of Mystery' video slots, in addition to its earlier debut of the Tournaments in-game leaderboard feature.
Lindberg's statement read:
"Challenges will add an extra layer of entertainment on top of your usual gaming experience. Gamification is the future of our industry and we're proud to be at the forefront of this development."