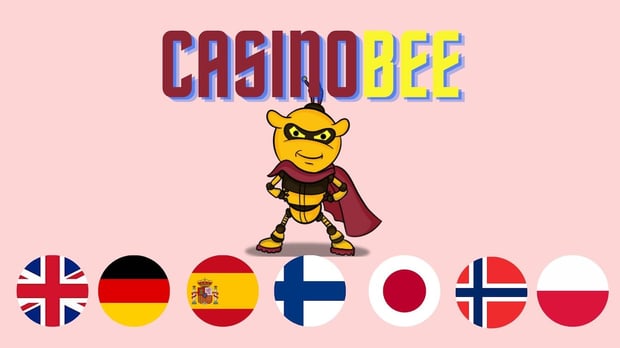 Revpanda Localizes Casino Bee into 6 More languages

Published 15/09-2020
Popular iGaming site, Casino Bee, is now available in six additional languages, as part of its global expansion policy. Parent Revpanda, a leading digital marketing agency specializing in the entertainment industry, currently caters to a clientele fluent in over 70 regional languages.
Casino Bee was originally available in English, while the later addition includes a range of popular European and East Asian languages. The recent expansion makes Casino Bee accessible to an audience unfamiliar with the English language. For instance, you can now browse Casino Bee in Japanese, or in Norwegian.
The Perks of Forming a Multilingual Community
Breaking the language barrier is crucial for any aspiring community seeking to expand beyond borders, and Casino Bee's endeavours are in full swing. Such efforts are even more critical at a time when a substantial portion of the world's population is confined at home, leading to a sudden spike in demand for indoor entertainment.
Casino Bee is a comprehensive review platform for the iGaming industry, with a strict emphasis on publishing unbiased and unpaid reviews, created solely with the intention of spreading factual information. This is a vital initiative for the long-term sustenance of the iGaming industry and aims to form a global community of enthusiasts.
Starting with the latest casino news and game reviews to listing reputed online casinos, Casino Bee brings players closer to the operators. As the race for constant innovation to keep up with the changing times heats up, Casino Bee maintains an encyclopedia of evolving features. From new games and bonuses to challenges and promotions, viewers find every information in one digital library.
How Casino Bee is Slowly Cracking Societal Taboo
In an era when gambling is still looked down upon in most cultures around the world, Casino Bee is trying to form a global congregation of iGamers. Within just a short span, the platform established itself into a leading authority in online gambling, with a vision to educate aspiring iGamers.
It's this vision that makes an effort a novelty in an industry plagued with countless paid review websites that try and shove genuine or unbiased opinion down the readers' throats. Casino Bee plans to solve this problem using two steps. One, by offering in-depth reviews, and two, using the Bonus Finder tool that allows aspiring iGamers to locate a casino that best suits their interest.
About Revpanda
Revpanda is a team of dedicated digital marketing enthusiasts that operates with the sole intention of helping clients find success. With services ranging from Website Design and Development to Content Strategy and Reputation Management, Revpanda offers comprehensive digital marketing solutions across industries.
Casino Bee is the latest in their long line of iGaming websites, designed exclusively to promote safe practices during online gambling. This is the need of the hour considering the ever-rising demand for accessible gambling options amid movement restrictions due to COVID-19.