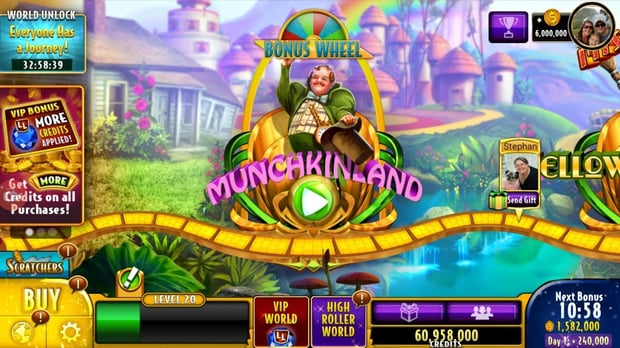 Scientific Games Launches Munchkinland

Mathias Jensen

Published 04/04-2019
Scientific Games (SG) hold the rights to some of the most popular video slots in existence, including those made by Barcrest and WMS, and they are not resting on their laurels. They have created a number of new and exciting titles in recent months, one of which is Munchkinland.
This brand new and highly-innovative title comes packed with an impressive 50-paylines and takes its lead from The Wizard of Oz film. This isn't the first online slot they have based on this film and it likely won't be the last, but it could be one of the most impressive titles to be based on the classic 1939 musical.
Immersive Entertainment
Munchkinland was developed using SG's Gamefield 2.0 cabinet, delivering a level of immersion that promises to draw players into the game and provide them with an experience like no other. Munchkinland uses symbols and themes taken direct from the film, including the Wicked Witch of the East and the protagonist herself, Dorothy.
While Munchkinland is not the first game to be based on The Wizard of Oz, it is the first to feature fully-rendered 3D graphics, and it looks every bit as impressive as you would expect. There is also a massive jackpot setup that promises life-changing sums of money to lucky players.
This jackpot setup is progressive and is based around the saying There is No Place Like Home. This famous quote from the film was actually used as a trigger for a popular wild bonus during the Ruby Slippers slot, which was created by the SG-owned WMS Gaming.
Features
Munchkinland also has a couple of interesting features that stay true to the classic film. In one of these, the Wicked Witch of the East flies across the reels at random, expanding them as she goes and adding wilds at the same time, significantly boosting the player's chance for a big win.
There are also wilds known as Lollipop Wilds and Tornado Wilds, both of which offer big wins for players and serve to further enhance the base game. If that's not enough to excite you then maybe the bonus feature will.
This feature is unlocked when three of the bonus symbols appear and it introduces players to a giant wheel where they can unlock everything from multipliers and wild-filled spins, to jackpots and more.
A spokesperson for SG expressed their delight at working on this slot and seeing it come to life. They noted how The Wizard of the Oz is one of the most famous films in history and their team of highly-skilled artists and developers were more than happy to work on it and to see their creation come to life.
He also noted how SG have had a long and successful history with The Wizard of the Oz brand and were confident that this would be a positive addition to it.