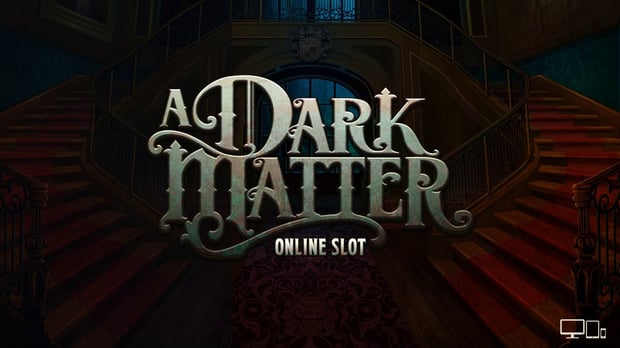 Searching for the Paranormal with New Microgaming Slot A Dark Matter

Jonas Riis Vestergaard

Published 13/11-2019
As winter looms, Microgaming is making preparations with the launch of A Dark Matter, a spooky video slot set in a Victorian manor house. This game was developed by Slingshot Studios, one of 9 creative studios working exclusively with the Isle-of-Man-based Microgaming.
A Dark Matter comes hot on the heels of another recent release by Gameburger Studios and includes a cast of curiously spooky characters, engaging animations and artwork, and a range of exciting features.
The Setup
A Dark Matter takes place in a quaint little English town, the sort of town that ghost-hunters adore, one that is steeped in history and rife with paranormal activity. The town has been plagued with a series of disappearances and it's up to the player to get to the bottom of things.
Players join a leading paranormal investigator from Scotland Yard as they search for answers in the aptly-named Wraith Manor—with a name like that, they really shouldn't be surprised to discover it's haunted!
There is an accompanying soundtrack to make everything that little bit spookier and more enticing, drawing you in like every good horror soundtrack does.
The Features
One of the biggest features on the A Dark Matter slot is something known as Invading Wilds. These can appear on the second and fourth reels and when they land they can expand, turning into a block of 6 Wilds. If they land stacked on these reels, they can create a block of 9, spreading into the middle reel and potentially triggering a big payout.
There is a Free Spins feature as well. This is triggered by the Door Knocker symbol. As soon as three of these symbols appear, the Free Spins feature will launch and players will be escorted to a grand room in the haunted manor. They will be given 12 Free Spins in total and every time an additional Scatter lands they will get one more.
The Free Spin features has Invading Wilds as well and there is also a multiplier to kick things up another level.
A Rewarding Experience
A representative for Microgaming used an official press release to comment on A Dark Matter and the hard work that Slingshot Studios put into creating it. He said he was "very excited" about the release of this spooky slot, before pointing to the game's "arresting character portrayals" and it's engaging "musical score" as being its highlights.
The aim, he added, was to create a "truly theatrical experience" and to combine this with "high-volatility gameplay" to give players of all stake and experience levels something to get excited about.
A Halloween Release
The A Dark Matter video slot was released across all Microgaming operators on October 22, 2019, just in time for Halloween. However, it can still be enjoyed at any other time of year and is great fun whenever you're looking for a little spooky fun.
Other titles released prior to Halloween include Blood Moon Wilds, which was developed by Yggdrasil Gaming, Witches Wild Brew, from Booming Games, and Bat Stax, from Greentube. Although best enjoyed on the spookiest night of the year, these slots, just like A Dark Matter, can give you a scare on any dark night.