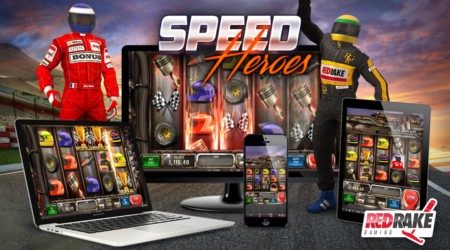 Speed Heroes latest offering from Red Rake Gaming

Mathias Jensen

Published 01/09-2018
Red Rake Gaming, the Spanish developer of online casino games, has unveiled Speed Heroes, its new HTML5-friendly video slot, featuring five reels and 30 paylines. The developer, based in Valencia, announced that the new title was themed around car racing using an "aesthetic that pays great attention to detail" as well as fast-paced music that will transport gamers "back to the races of the 70s and 80s."
The developer also revealed several bonus features, including the Speed Run advance: if players have driver symbols on both the first and fifth reels then they can scatter wild icons at random.
The new mobile-friendly game, which features multiple languages including Spanish, English, Italian, and German, also gives players who can accumulate at least five piston symbols a Sticky Pistons Roulette bonus, in which they can spin a roulette-style wheel based on a speedometer to win even bigger payouts.
On top of that, the new game also has a Gas Boost feature, offering automatic wins to anyone coming up with between three and nine petrol can symbols. Furthermore, any players gathering five bonus symbols can enjoy up to 24 free spins.
Speed Heroes also has a special "free spins bonus feature", whereby players can multiply any winnings by five times and at the same time get up to a dozen free spins.