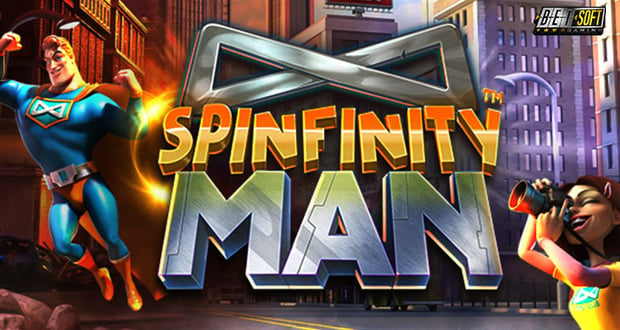 Spinfinity Man Slot Launched by BetSoft

Mathias Jensen

Published 27/06-2019
All eyes are on BetSoft again as the innovative and exciting developer has just announced yet another new slot: Spinfinity Man. Launched just in time for the summer, Spinfinity Man is a superhero themed online slot that ties in perfectly with the glut of superhero movies hitting the big screen over the summer months.
Spinfinity Man begins following the typical glossy cinematic intro that we have come to expect of BetSoft, and it also features the same beautiful 3D graphics that can be found on all of their biggest and latest titles.
Spinfinity Man has both style and substance, because in addition to the gorgeous graphics, slick animations and impressive intro, it also features a unique 7x7 grid and an in-game jackpot that goes as high as 5,000x.
What to Expect
One of the biggest symbols on Spinfinity Man is the main logo, which is animated and covers 2x2 squares. This symbol appears on reels two, four and six and when it does the game's protagonist will use his superpowers to trigger big wins.
Of course, all superheroes need a villain and Spinfinity Man is no different. The antagonist in this superhero story is Mr. X, who our caped-hero will track through the gritty city streets to try and save the day.
The main showdown will take place in the bonus feature, but there's a lot to enjoy before that feature is unlocked. For instance, Spinfinity Man utilizes an exploding symbol feature, whereby winning symbols explode and disappear and are then replaced by new ones. This helps to trigger big win streaks and to keep the riches flowing.
There are also cluster combos and wilds, as well as a Fan Girl who uses her camera to capture the action and to trigger an avalanche of wins and features in the process.
The Showdown
The ultimate goal of the Spinfinity Man video slot is to track down Mr. X as he flies around the city. Players "find" him by capturing his symbol in one of the exploding symbol features. When this happens a total of 10 times then the free spins feature will be triggered and 10 free spins will be awarded.
Spins can be re-triggered during this feature and this is where the in-game jackpot of 5,000x can be won. It's during this feature that BetSoft really show off their skills, but even outside of the future Spinfinity Man has a lot to offer and will keep slot fanatics hooked from the first spin until the last.