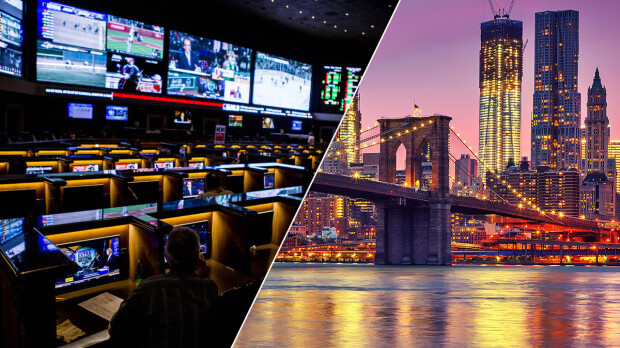 Sports Betting Rules are Approved in New York

Mathias Jensen

Published 28/06-2019
There are some big changes afoot in the state of New York as the New York State Gaming Commission has just approved regulations that will allow the state's casinos (both commercial and tribal) to apply for sportsbook licenses. These licenses will give the operators permission to operate a sports betting facility within their casinos.
PASPA Changes
These changes are all the result of the invalidation of the Professional and Amateur Sports Protection Act (PASPA), which made it nearly impossible for states to set their own rules and regulations regarding sports betting and other forms of gambling. As soon as this act was invalidated the floodgates opened and a number of states legalized some form of sports betting.
In changing their stance on sports betting, the state of New York will become the 14th state to legalize sports betting. It's also one of the biggest in terms of population and potential, with huge numbers of tourists flocking to the state every year and with a wealthy populace ready to gamble their hard-earned income.
Looking Forward to August
The regulations approved by the New York State Gaming Commission will give punters across the state a chance to bet on a wide selection of sports, covering a number of amateur and professional leagues.
These changes could come into effect as soon as August, which means they will be ready in time for the start of the National Football League season, which is the biggest league in the United States. However, while punters will be able to bet on games in this league and leagues such as the NBA and NHL, they will not be given a chance to bet on college sports that take place inside, or involve teams from, The Empire State.
Big Casinos and Big Plans
There are four upstate commercial casinos that will not be given a chance to apply for a sports betting license. These include the Del Lago Resort and Casino, which is expected to be one of the first to provide a sports betting facility on-site. This is thanks to a recent deal that it signed with DraftKings Incorporated, one of the biggest daily fantasy sports providers in the United States and one that is keen to get in on the rising sports betting industry.
The Seneca County establishment is planning to build a sports betting facility that will cover over 6,000 square feet and include a number of high-definition LED televisions as well as 20 self-service betting kiosks, through which customers can place their bets on the aforementioned markets.
A spokesperson for the casino commented to say that they "think it's going to be an exciting place" for their customers to watch games, eat some food and enjoy betting on a range of markets. They also noted that the casino has been in dialogue with the state for some time and is eager to acquire a license as soon as they come available.
Resort World Catskills
Resort World Catskills, which is located south of the Del Lago Resort, is another of the state's four commercial casinos that is expected to apply for a license. It will hope that this sports betting license can help them to avoid a string of recent financial disappointments and trigger an increase in revenue.
They have a deal in place with the online gambling giant Bet365 that will allow them to offer sports betting markets to their many customers.
Other Commercial Casinos
The final two commercial casinos in The Empire State are Tiogo Downs Casino Resort and Rivers Casino and Resort Schenectady. The former of these has signed a deal with FanDuel Group, another huge daily fantasy sports provider that is aiming to get in on the growing sports betting market. FanDuel is owned by Flutter Entertainment, which was formerly known as Paddy Power BetFair and owns some of the most recognizable online sports betting sites in the world.
As for Rivers Casino, they will likely enter the sports betting market through their parent company Rush Street Gaming.
Tribal Casinos
Of the seven tribal-owned casinos in the state, Oneida Indian Nation seems to have moved the fastest, having already begun construction on sports books inside two of its casinos, with plans for similar facilities in a third.
The Mohawk Nation and the Seneca Nation, who also operate casinos in the state, have not yet made their intentions clear with regards to these soon-to-be available licenses. The Seneca Nation actually run three casinos and could stand to gain a lot by acquiring these licenses, but it is believed that they are too busy with an ongoing state dispute concerning revenue-sharing payments.