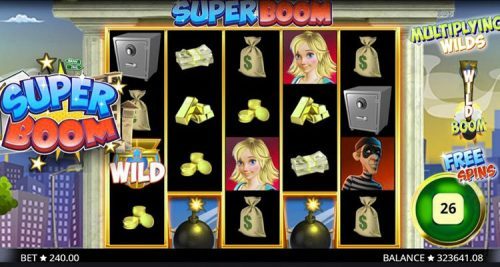 Super Boom Slot Announced by Booming Games Limited

Mathias Jensen

Published 15/05-2019
Booming Games Limited is on a high so far in 2019. They only recently launched their Stellar Spins title, a game that has since gone on to perform very well for them, and now they are preparing for another launch. This time around it's Super Boom, a 5-reel 12-payline video slot title that stars an aspiring bank robber and follows him on his quest to rob a bank.
The Heist
Booming Games Limited announced the launch of this new slot in a recent press release. They explained that Super Boom would have a heist theme and would feature a high volatility and an irregular grid, all of which should help this title to standout and to continue Booming Games Limited's success in 2019.
Super Boom has been regulated in Italy, Sweden, Denmark and Malta and will be rolled-out to applicable casinos soon. It takes place in front of a city bank. The villain of the game and the star of the show has placed bombs at the entrance and whether he succeeds or not will have a big impact on the reels and the player's success.
There are high-paying symbols, wilds, scatters and a free spins round. Super Boom is HTML5 friendly, which means it can be played on mobile devices, and Booming Games Limited have also promised that it will go down well with high-rollers owing to the wide betting range. If that's not enough, players can also look forward to a multiplier feature that helps them to stack-up those big wins and to walk away with a sizable sum.
A Good Year
In addition to launching Stellar Spins and Super Boom, the hard-working Booming Games Limited have also inked a few important deals, including one with Betsson AB, one of the biggest brands in the business. These deals have helped to spread their portfolio of casino games to more casinos and more players, giving them more of an incentive to keep adding to their portfolio.
Remarking on Super Boom, a spokesperson for Booming Games Limited said that his firm had "pulled no punches" in creating this title and looked forward to seeing how well it was received by the gaming public.
Free spins is something everyone loves, if you want to find the best free spins bonuses at some of our favorite casinos, then you should give our Free spins page a visit here!