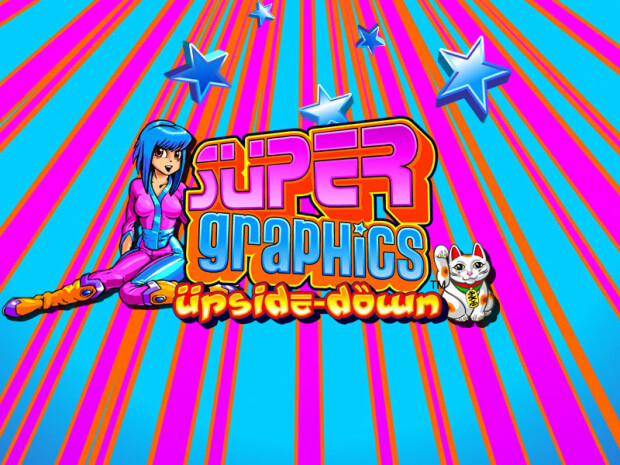 Super Graphics Upside Down Relaunched by Realistic Games

Mathias Jensen

Published 03/04-2019
iGaming content developer, Realistic Games, recently announced that their popular slot game, Super Graphics Upside Down, was being relaunched. This is a rarity for online slots, but Realistic Games felt it necessary to make some big changes to the title and players can now enjoy a new and improved version of this anime-inspired slot.
A Revamped Classic
Super Graphics Upside Down was launched for the first time back in 2011 as part of a virtual slot cabinet. Realistic Games wanted to create a title that offered an authentic experience in a virtual slot, and it proved to be a bit hit, becoming very popular very quickly.
Just a few years later they launched a sequel, Super Graphics Super Lucky, which reduced the original 5 reels down to 3 and made a few other tweaks as well. Now, a few years after the launch of the sequel and 8 years after the series launched, Super Graphics Upside Down has been revamped, with Realistic Games deciding that it made more sense to tweak this title than it did to complete the trilogy.
One of the biggest changes was to make Super Graphics Upside Down HTML 5 ready and to allow for a full-screen setup, but they also improved the graphics, bringing them up to modern standards, and the sound, which was refined to make it crisper.
The Game
Super Graphics Upside Down is hosted by Satuski, an anime-inspired character who serves as the game's host, introducing players to many of its aspects and guiding them through their session. She has also been redesigned slightly, with the developers improving on her general design and animations, while also making sure she looked just as good on mobile.
A spokesperson for Realistic Games commented on the revamp by saying that Super Graphics Upside Down was their most popular game and by adding these tweaks they were just making sure it was ready for the current mobile revolution and could continue to provide players with the very best experience.
They are clearly very happy with the end result and are confident that their players will be happy as well, and why not? They've taken a classic, made it more compatible with modern platforms and improved upon the graphics—it's a no-brainer.
Fans of Super Graphics Upside Down and Realistic Games will also be delighted to know that they are working on a new title. Not a lot has been revealed about this title, but they did announce that it would include Satuski, everyone's favorite anime slot host.