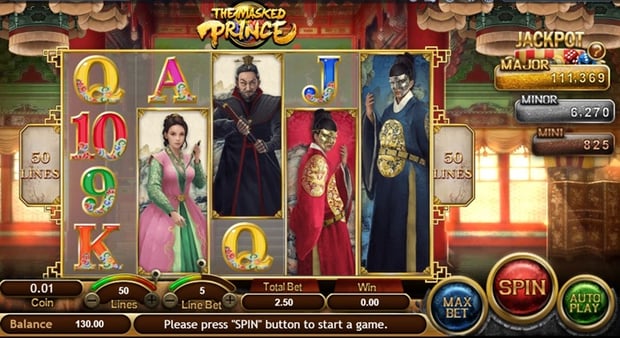 "The Masked Prince" Slot Game Announced by SA Gaming

Mathias Jensen

Published 17/11-2018
SA Gaming is a leading online software developed and it recently announced an exciting new online slot game based in 18th century Korea, during the Joseon Dynasty. The cinematic story follows the royal family, which is under the control of a group of ministers. Meanwhile, everyday people within the region suffer hard lives. In a bid to fight back against the corrupt ministers, the Crown Prince puts on a mask and slips into the city from the palace. Over the course of the game, players will help the Crown Prince to become more powerful and fight to take hold of his position of power.
The Masked Prince
This new slot game has two wilds: the first is a silver mask which has a blue background and the second is a golden mask which has a red background. When activated these wilds are substituted for other symbols which helps players to put together winning combinations. If five of either symbol is found upon the feels then a whopping 1,000 coin jackpot prize is achieved. There are a series of lower-paying symbols in the game such as 9, 10, Jack, Queen, King and Ace. If three to five of any of these symbols is found on the reels then the player will enjoy a smaller prize payout.
Extra spins can be earned by players through two unique features. The first can be triggered in the base game when three, four or five Wild 1 symbol are shown on the reels. In this circumstance 8, 15 or 30 extra spins are earned according to the number on the reels.
The second feature is activated within the base game in instances where three, four or five of the Wild 2 symbols are shown on the reels. Once again, the player will earn 8, 15 or 30 extra spins according to the number of symbols they find on the reels.
Third Feature Available
In addition to these two features this intriguing game offers a third method to earn extra spins. In circumstances where players earn a combination of three, four or five of the wilds on the reels they will receive either 8, 15 or 30 extra spins. In this instance the payout that players receive will be multiplied by two.