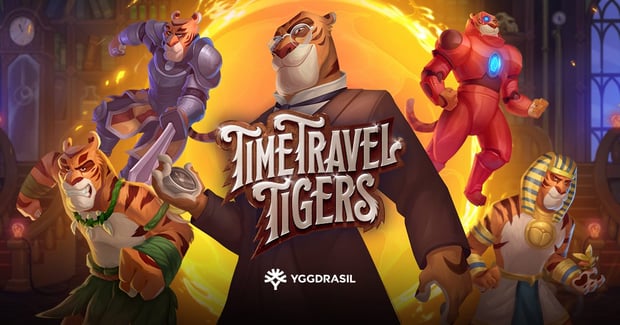 "Time Travel Tigers" Released by Yggdrasil Exclusively for GVC Players

Mathias Jensen

Published 14/12-2018
Yggdrasil has announced a new release, "Time Travel Tigers". This exclusive online slot game can only be enjoyed by members of GVC, incentivizing players to join the platform and rewarding them for their loyalty.
A Late-November Launch
Ths game is a 5-reel, 25-pay line game which focuses on the adventures of the genius Dr Tigerstein, who is using his abilities to create a powerful time machine. The machine is being built to take people throughout time to a variety of exciting periods like Ancient Egypt, the Prehistoric era, Medieval Europe, and others.
The players can embark on these journeys with Tigerstein, experiencing different options for wild patterns, win multipliers, and extra spins depending on the time period they are playing in. This leads to a truly varied and wild experience!
Designing Something New
Yggdrasil is proud to offer a new concept and back it all up with fantastic visuals and immaculate audio. These two elements come together with great gameplay to offer an engaging experience.
Jonas Strandman is the Head of Slots for Yggdrasil and shared his views on the new and exclusive release:
"We are delighted to have created this innovative game with GVC in an exclusive white label partnership. Time Travel Tiger's offers an exciting and unique take on a themed slot, with a consistently transitioning setting.
"Being able to design highly creative games in a universe of our choosing is always great fun for the development team, and the work put in to create multiple worlds has been a fascinating challenge. We can't wait to see how the game is received by GVC players across various brands."
Other fun casinos: