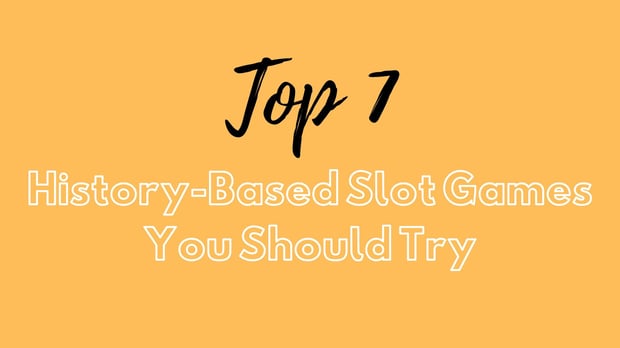 Top 7 History-Based Slot Games You Should Try

Published 17/04-2020
Top 7 History-Based Slot Games You Should Try
There are no such prolific slot games as history-based slot ones. These games can be based on several themes, including stories of medieval rulers, wars, civilizations, and many more. Besides being highly entertaining, such slot games can be educational and are rich in graphics, as they allow developers to create entire worlds.
If you are a history enthusiast, you will find history-based games to be particularly interesting for you. It could be your favourite hero, inspiring you to the biggest wins, or a certain culture that makes the game even more entertaining. For helping you to select the slot game that you'll enjoy, here are the six history-based games worth your attention.
Millionaire Genie
Do you remember the famous tale of Aladdin and his golden-lamp genie? This slot game is based on that story, making it one of the all-time favourite slot games you should try. Millionaire genie is a slot game that will definitely make your wish come true.
The magic lamp featured together with the Arabian Music will give you a magical feeling. On the left, you'll see the jackpot size displayed on the treasure chest, which is a game-changer.
It's not about the interesting story alone, as this slot game has a lot to offer, including free spins, mini-games, and some exciting bonuses. Also, it is a five-reel game that gives users fifteen ways to win. The highest paying symbols for Millionaire Genie are the pot of gold, the snake, and the lamp.
Arabian Nights
This slot game will take you to the Arabic world, where you will learn about its history between the 9th and 13th centuries. The game features amazing Arabic design, sounds, and objects that serve up the traditional Middle East atmosphere.
Arabian Nights is a five-reel video slot game that gives you ten winning lines. It has a wild symbol that appears as a turbaned sultan and a scatter symbol that looks like a golden genie pot. In addition to these signs, you will get a free spin bonus that will enhance your chances of winning.
Similar to many slot games, this one has an auto-play feature. Thus, you can set up to a thousand spins and relax as you enjoy the Arabian scenery.
Kronos Slot Machine
The theme of this slot game is based on Greek mythology. The Greek gods have inspired a series of such games. This one features Kronos as the leader of the Titans who is here to inspire you to win big.
The Kronos slot machine is a five-reel game from WMS. It has an RTP of 95.94 and gives you twenty ways to win and up to a hundred free spins.
Besides, the game features extra wild and stacked symbols added during the free spins for a more productive session. Some symbols you should expect in the Kronos slot game include a bracelet, a throne, Kronos himself, a temple, and a Pegasus, among others.
It is an easy game to play for most people. The symbols don't stack too often, but if you find favor of the gods and win, the payout can be extremely huge.
Apollo: God of the Sun
If you are into the history of the Greek gods, then you must know how powerful Apollo the Sun was. The game has a great design and sounds that remind of Ancient Greece. By playing this game, you get a chance to be bestowed with great prizes by the powerful god of the sun.
The Apollo is a five-reel game that comes with special features, such as wilds, scatters, bonuses, and free spins. The bonuses come in two forms, namely pick-me and a wild reels one awarded by Apollo. The wild reels bonus is available in every free spin to ensure you can win big.
Besides, the game offers a huge progressive jackpot and a big RTP of 97.17. Games with progressive jackpots provide you with real chances to win big. The advantage of progressive jackpots is that you can control the amount of your final pot. The more you play, the greater the amount of your final win.
108 Heroes
The story of this slot game goes about the 108 demons that were banished centuries ago by the Chinese god. They later repented and came back as 108 heroes to help people to fight for justice. Be ready to help these 108 heroes to fight for the good things in this slot game and win many rewards.
This five-reel video slot game has fifteen paylines and comes with a wide range of bonuses, including a first deposit bonus, a welcome bonus, and many more. Also, the game has a good jackpot, with the largest paid prize currently being $20,000.
This game from Microgaming is visually entertaining and high-paying. It contains ten symbols, including the three main cards, ace, queen, and King. You will also enjoy the free spins and the music that has a Chinese vibe. If you would like to explore the game online, you can review it at OnlineCasinoGems, a service that aggregates all the casinos that offer this slot game.
Amazing Aztecs
The Aztecs were able to boast of vibrant culture and intelligence. According to the Wall Street Journal, the Empire existed between 1300 and 1521 in Mexico and is well known for some of the best inventions we have today. This game from JFTW features bright and colourful graphics, with characters adorned in gold to capture the spirit of the ancient civilization.
Amazing Aztecs offers remarkable 243 ways to win, being a slot game with one of the highest paylines you can find on the market. Besides, it comes with a Giant Re-Spin feature that can be triggered after a win on the reels. This option comes with guaranteed success.
This slot game has an RTP of 96.03% and a hit frequency of 23%. It also comes with adjustable pay-levels where you can choose your bet level from 10, 20, 30, 40, and 50. Its volatility is medium, so expect a balanced game with big and small wins.
Cleopatra Slot Machine
This game is based on the life of the famous Egyptian queen, who ruled the country for twenty-one years and was the last pharaoh. She was known for her beauty so that no man could resist and a charm she used to control the minds of people. The beauty of this queen will definitely keep you focused on this game for quite a time.
Cleopatra slot game incorporates lots of Egyptian culture in the gameplay. Some of these include music, symbols, and even the Egyptian language. So, you are guaranteed to see some fascinating aspects of this culture as you play the game.
It is a five-reel game that has twenty paylines, with each coin placed in the slot activating one payline at a time, as seen on Weekly Slots News. The game also features plenty of bonuses in the form of free spins where you can earn up to fifteen free rounds. On top of that, this slot game has huge jackpots of up to 10,000 credits.
Get Inspired to Win with History-Based Slot Games
The history-based slot games mentioned above are a must-try in 2020. You can not only win but enjoy the beautiful graphics, unique symbols, and music.
You will also learn more about the rich history of different people and their cultures. Play a slot game with a history theme and get inspired to win even more.