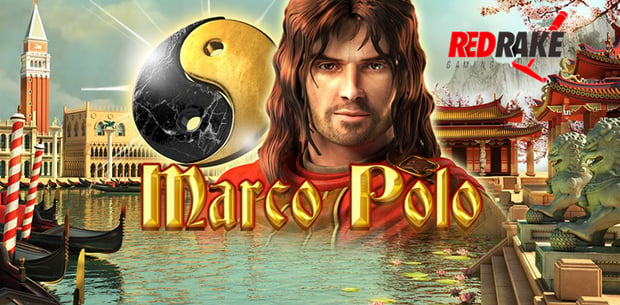 Travel Through Asia with Marco Polo Courtesy of Red Rake Gaming

Mathias Jensen

Published 06/05-2019
Red Rake Gaming have just announced the release of a brand new adventurous slot, Marco Polo. This online slot follows hot on the heels of the gaming brand's deal with Bet.PT, Portugal's leading operator, and it's another big step forward for this growing company.
Marco Polo is a 5x3 video slot that comes with 30-paylines. It's based on the eponymous explorer and it follows him on a journey across continents.
What to Expect
The Marco Polo video slot begins in the city of Venice, the explorer's hometown. Gondolas in the Grand Canal serve as the backdrop, and if players unlock the free spins feature then they will advance to the next stage and begin their journey across the Silk Road and on the path to ancient China.
Players will be given numerous chances to win big, with wilds, multipliers, free spins and more. The main bonus feature gives players a choice between free spins or an instant win, represented by the Yin and Yang symbols.
The instant win feature takes away the element of risk and gives them a guaranteed payout, but if they take the free spins there is a chance they can win even more, so this choice is not an easy one. If they opt for the free spins feature then they will also experience new visuals and a new backdrop, as well as multipliers.
The Marco Polo symbol acts as the wild symbol on this Red Rake Gaming video slot. This replaces all symbols in the game, giving the players a chance to win big every time they see it on the reels.
The Event
Red Rake Gaming will showcase Marco Polo at the Global Gaming Expo Asia, better known simply as G2E Asia, between the 21st and 23rd of May. This is when developers like Red Rake really shine, showing off their best upcoming projects to the huge Asian gambling market.
The event will even be hosted by the Venetian Macao, so there is a little Marco Polo connection there, albeit tenuous, for them to latch onto. Marco Polo won't be the only game they showcase either, as they have several other titles and features that they are set to announce during this event.
Other Releases
In addition to launching Marco Polo and signing the aforementioned deal with the Portuguese powerhouse Bet.PT, Red Rake Gaming have released a number of other top titles throughout 2019 and toward the latter end of 2018. These titles, which are now available across the Red Rake Gaming partner network, include The Asp of Cleopatra, Mystic Mirror, and more.
Red Rake is renowned for its innovation and devotion to creating user-friendly experiences. They have a wealth of features built into their games and software that allows for the very best customer engagement, while also providing their operating casinos with tools that can be used to effectively market and promote their games.
Free spins is something everyone loves, if you want to find the best free spins bonuses at some of our favorite casinos, then you should give our Free spins page a visit here!