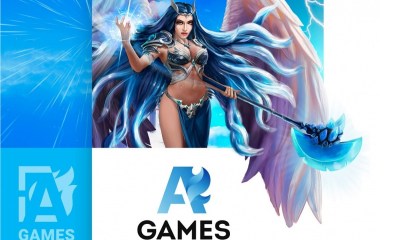 Vikings: Frozen Gods Slot Launched by AGames

Mathias Jensen

Published 26/03-2019
The subsidiary of Boss Gaming Solutions, AGames, has just announced the release of a brand new slot, Vikings: Frozen Gods. The brand, which recently changed its corporate logo, announced that the new 25-payline title would be made available in applicable online casinos very shortly.
An Epic Journey
Vikings: Frozen Gods was designed to "take players on an epic journey" according to the official press release that announced its launch. It is a three-row slot that takes place in barren and distant viking lands, immersing players in a cold and mythical world filled with Nordic myth, legend, and history.
This theme has been utilized by some of the most popular slots online, including the massively popular Thunderstruck, as well as several top titles released by Swedish-based Yggdrasil, so AGames are clearly hoping to match those successes and cash-in on this trend.
A Strong Foundation
AGames are no stranger to grand slots set in mythical lands. They previously released Angels vs Demons and Atomic Mushrooms, and in Vikings: Frozen Gods they use many of the things they learned by creating those games. It brings together four heroic viking warriors and includes a host of well-designed symbols, including axes, swords, armor, and magic runes.
It also features something known as the Frozen Gods Meter, which acts as a multiplier, doubling, trebling, and quadrupling player wins. This adds an extra element of excitement to the game and gives players something extra to focus on.
This meter kicks in during unsuccessful bets, giving players a chance to scrape some returns out of those unsuccessful spins and ensuring that no spin is completely wasted. Every time they lose, the meter builds, and when they win the multiplier kicks in, they get a return, and then the meter returns to zero.
It's a unique feature that takes a common player frustration and turns it on its head, essentially squeezing a positive out of a negative and giving players more reason to keep spinning.
More Features
The aforementioned multiplier meter isn't the only feature that Vikings: Frozen Gods has to offer players. It also comes loaded with a Loki Wild, which is as tricky and as fun as the famous Norse god that it is named after. These wilds can appear multiple times on the reels, after which they will turn into any one of the other god symbols, staying true to the Norse legends of Loki disguising himself as other gods while also adding an extra dimension to the play.
Vikings: Frozen Gods also comes with a bonus feature that awards players with 15 free spins and is triggered when they land scatter symbols on the middle and final reels. This feature, in addition to the fun aesthetic, the Loki Wilds and the multiplier meter, makes Vikings: Frozen Gods a unique and exciting title that is sure to win AGames many fans.
Free spins is something everyone loves, if you want to find the best free spins bonuses at some of our favorite casinos, then you should give our Free spins page a visit here!