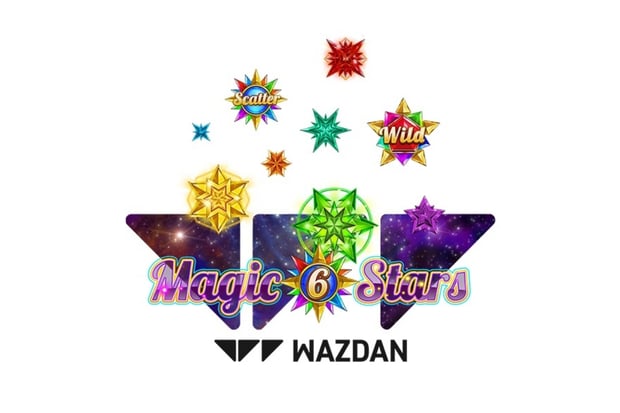 Wazdan's Magic Stars 6 Takes Players on a Journey

Mathias Jensen

Published 29/04-2019
Wazdan have just announced the release of an online slot that will take players on an adventure through space, leading them to all kinds of cosmic treasures. The game, Magic Stars 6, is the latest installment in a series that has won the developers great praise over the last few years, leading to some big showcases at events like ICE and helping their name to become synonymous with quality video slots.
What to Expect
Magic Stars 6 has 20-paylines spread across 6 reels. It takes place in deep space and is loaded with all kinds of big features, including wilds, scatters, multipliers, bonus rounds, and more. This all takes place against a techno soundtrack, making this a high-speed, high-octane slot that never disappoints.
The symbols include a number of precious and semi-precious gems, and there are also several collectibles that build towards bonuses and big wins. Magic Stars 6 also has several high-paying wild symbols that dance across the reels to reveal big wins and prizes, and there are bonus spins that come with a 3x multiplier.
These spins are unlocked via the scatter symbol, which is the biggest and most valuable symbol in the game.
Personalization
In addition to big wilds, scatters, multipliers and more, Magic Stars 6 also has a personalization feature. This has become commonplace on all Wazdan titles in recent years and helps to add an extra layer to the games.
This personalization isn't limited to a few measly visual or audio choices either. Players can set their own volatile levels, opting for "low", where wins are more frequent but much smaller in value, or "high", where the wins are less frequent but return much bigger amounts.
Players usually have to go in search of slots that have one or the other, but with Magic Stars 6 they can chop and change at will. They can also choose between a few different game modes, including Big Screen Mode and Double Screen Mode, which change how the game is viewed, and Energy Saving Mode, which is very helpful for mobile players who have limited battery life.
There is a "Gamble" feature on Magic Stars 6. This gives players the chance to go Double or Nothing with their winnings and they can do this 7 times, boosting their returns each time and scooping a major reward if they make it all the way. Magic Stars 6 is also equipped with an Ultra Fast Mode, which speeds up the reels and allows for much faster results.
Hotly Anticipated Release
A spokesperson for Wazdan announced that the game's release was a big moment for the company, calling it an "entertaining and engaging title" and going on to say that they looked forward to players winning big and to seeing how well it is received across the online casino industry.
Magic Stars 6 isn't the only new slot that Wazdan have released so far in 2019 and it likely won't be the last one either. They have been very busy so far this year, and have already received a lot of praise for the release of Juicy Reels, which has a similar format to Magic Stars 6 (with 6 reels and 20-paylines) but adopts a theme all of its own and also has a few unique features.
Wazdan have an extensive back catalog of online slots that Juicy Reels and Magic Stars 6 will join, including the rest of the Magic Stars series, and titles such as Space Spins, Relic Hunters, and Larry the Leprechaun.