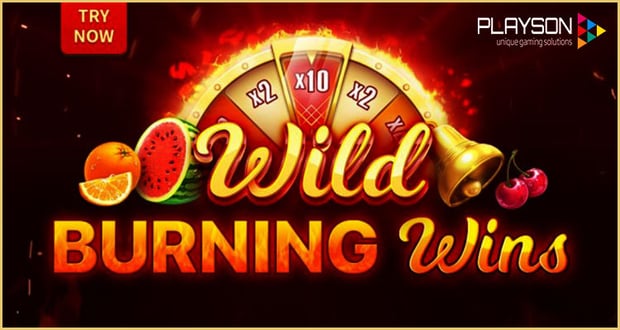 Wild Burning Wins Announced by Playson Limited

Mathias Jensen

Published 03/07-2019
A short time after signing a deal with Kindred Group, one of the biggest names in online gambling, Playson Limited have launched a brand new slot, Wild Burning Wins: 5 Lines. This is an innovative title from one of the most exciting brands in the business and thanks to their recent deals and partnerships it is now available across hundreds of online casinos in many regulated markets.
Red Hot
Playson used a recent press release to announce the launch of Wild Burning Wins: 5 Lines and to describe the many features that make this slot unique. They called it a "red-hot twist" on the classic "three-reels, five win-line" video slots of years gone by. Their goal was to create something that looked familiar and was instantly accessible, but also offered some unique features in a package that was both attractive and distinctive.
In addition to the fiery aesthetic and the fast-paced and seamless action, one of the features that helps to set Wild Burning Wins: 5 Lines apart from the crowd is a re-spin that gives players the chance to double their money.
Growing List of Games
The Playson playbook is getting bigger with every passing month as they reel-off new creations at a fast pace. In addition to trying their hand at new and exciting features Playson are also regulated in several major jurisdictions, including the UK, Malta and Sweden. This allows them to offer their titles to markets across Europe and further afield.
They have over 60 titles on their list at the time of writing, all of which are mobile friendly, utilizing what has been described as "engaging math mechanics", in addition to several promotional tools, to ensure the very highest quality.
Fun Features
The Head of Product for Playson Limited used the aforementioned press release to detail everything that Wild Burning Wins: 5 Lines offers. They detailed the game's bonus wheel feature, which they said helps to "add to the playability" by presenting players with a range of multipliers and other lucrative extras.
They also pointed to the game's "fiery animations", which they promised would "get slot fans hot under the collar" as they search for big wins. "We specialize in bringing the heat" they claimed, and with fun and feature-rich titles like Wild Burning Wins: 5 Lines hitting the headlines, who can argue with them?