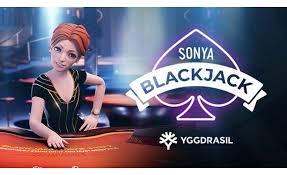 Yggdrasil Enhances Its Blackjack Offering, New Release and Updated Title Announced

Mathias Jensen

Published 28/01-2019
Yggdrasil Gaming is a leading supplier of innovative gaming solutions. Staying true to its reputation, the company recently announced that it will release "Lucky Blackjack" while also updating "Sonya Blackjack."
New Title Released
The big news means that two games are going to be released "Lucky Blackjack" offers an Irish twit to the popular game and an animated character acts as the dealer. Two side bets are on offer: Lucky Lucky and Lucky Ladies. Fans are sure to enjoy the 3D effects which are on offer and help to cultivate an immersive experience.
Sonya Blackjack has been out for a while and it now benefiting from an update which brings a slew of new features, including side bets. Swifter animations and pre-decision factors are on offer in both of the new releases.
Marcus Honney is the Head of Table Games and in a statement, he explained:
"The release of Lucky Blackjack and the new Sonya Blackjack features is really exciting for us as it marks the evolution of our interactive table game offering. With multiplayer options, and an added layer of player engagement in the form of side bets, Lucky Blackjack, and the newly-upgraded Sonya Blackjack, are some of the most engaging, immersive table titles on the market today."
Multiplayer Options
Both of the games bring strong multiplayer options. Three players can sit at one table, creating a fun shared experience that helps to make the game even more life-like. Picture-in-Picture history means that players are able to watch their winning hands via video, and this helps them to relive the exciting moments that the game brings.
This announcement coincides with the release of "Trolls Bridge," a new online slot game. This game is now live and the action unwinds on a wooden drawbridge. Players can spin the reels to activate a range of bonuses including the Golden Stone feature which adds new elements, or the Golden Bet or Golden Pot option.