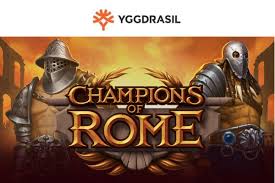 Yggdrasil Gaming Takes on the Roman Empire

Mathias Jensen

Published 02/03-2019
Yggdrasil Gaming is a Swedish based online gaming developer that takes its name from a mythical tree at the heart of Norse mythology. They have played on their connections to Norse mythology with a number of Viking themed games over the years, but now Yggdrasil Gaming are heading south and tackling another ancient empire: The Romans.
The Vikings and the Romans never met as their empires occurred during different stages and they were separated by thousands of miles, but that hasn't stopped Yggdrasil Gaming from tackling one of the Mediterranean's greatest empires with the Champions of Rome slot.
Gladiatorial Combat
Yggdrasil Gaming's Champions of Rome takes players inside the Colosseum, where they can witness mighty battles between hardened gladiators. It's an action-packed game full of sword fights, mace fights and other fierce combat, and every strike of the sword or swing of the mace promises to bring big wins for the player.
Several Exciting Game Modes
Champions of Rome will be a mobile friendly title. It was developed using Yggdrasil Gaming's iSense 2.0 technology in addition to HTML5 framework—software that really helps to bring the majesty and the brutality of Rome to life.
One of the key features of the Champions of Rome slot is the abundance of wild symbols that can be triggered when Scatter symbols land. There are also a couple of exciting bonus features that place players in different battle scenarios, truly immersing them into the gladiatorial way of life.
These features include both a Training mode and a Deathmatch mode. These modes will give players the chance to win differing amounts of spins, wilds and multipliers, but there are also a number of pros and cons that players will need to weigh-up. In Deathmatch, for instance, players can stack-up big wins, but they will have to sacrifice their winnings if they fail to get the necessary sum.
Champions of Rome is visually impressive from top to bottom and this, in addition with its high immersion and the many wilds, bonus features and other exciting aspects, will no doubt make it an instant success for players all over the world.
Yggdrasil Gaming are one of the most celebrated developers out there right now, and with Champions of Rome they could cement that status further.