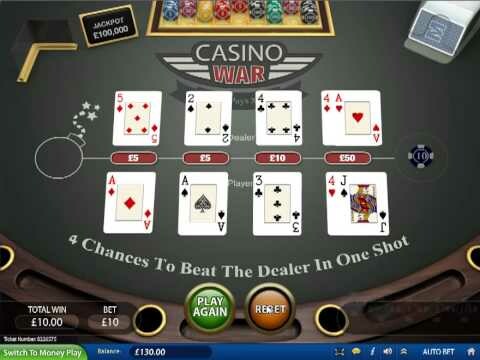 Part 14: More than just slots and live dealers – a introduction to scratch cards

Anonymous

Published 24/02-2019
Dealers Casino is an online casino that not only offers handpicked slot games and Live casino dealers. There is an entire section called Scratch Cards. To be honest I had no idea what Scratch games were… or like I could imagine, but I couldn't really imagine how it works in an online casino setting. So, I decided to try them out…

Titles in this section include but are not exclusively: Hit the Bank, Secrets of El Dorado and Bingo. I decided to try these three to see what this whole scratch card thing was about.
Hit The bank
To begin here you have to choose the amount of tickets you want to play and the cost per ticket. Sort of like the "Coin Value" and "Bet" of traditional slot games.

Because I wanted to try out the three other games, I decided to buy 20 tickets for the ticket price of €0.05 which would equal €1. With this it means that my bonus shrinks from a possible €125 to €25 but I thought…what the heck it's just for testing anyways.
Once you have chosen this you have to press play. The "Play" button then becomes a "Reveal All"button where all of the scratches have been made…but I mean the fun of a scratch card is waiting for all of the tickets to be scratched to see if you won anything so I did it all manually.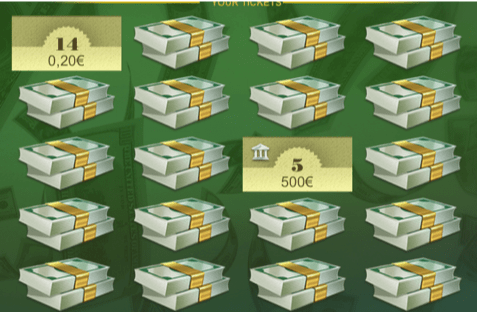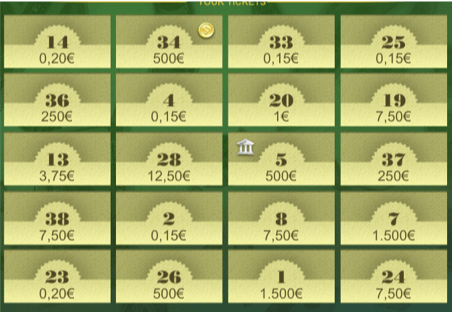 After having reveal all of the tickets you need to reveal the winning tickets, If you then have something that corresponds with one of the winning tickets you win! To be honest this reminds me so much of Christmas at home with my family, where we all get a scratch card each and sit and dream about what we will do with our millions that we win.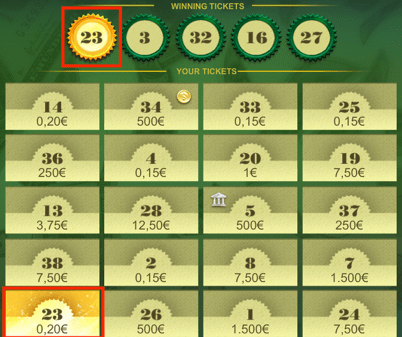 Despite only winning 20 cent I feel like this game was a game for me!
Secrets of El Dorado
The second game I tried was called Secrets of El Dorado. In this game you can scratch "Stars" which equal immediate wins or "Suns" that match up with "Moons" to collect the wins.
The minimum ticket cost in this game was €0.5, and unlike the other game here you can't choose how many tickets you want to buy that is done automatically.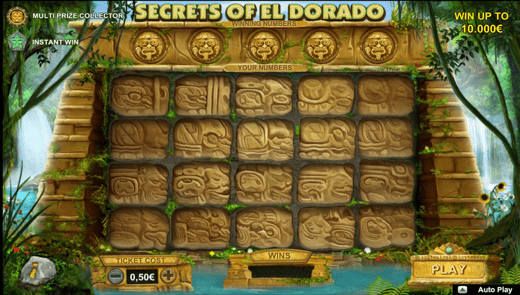 As in "Hit the bank", the Play button becomes a reveal all button, but once again I choose to reveal all my tickets manually. I like the graphics of this game it feels like you get submerged into the hunt of El Dorado, with the waterfall in the background and the very calming jungle music. Unfortunately, I didn't win anything on this game… but you know you win some you lose some.
Bingo
The third and final game I wanted to try was Bingo. The game shows you the steps you need to take to get started. As with the others it is choosing a card or ticket price and then starting by pressing play. The lowest ticket price is €0.5.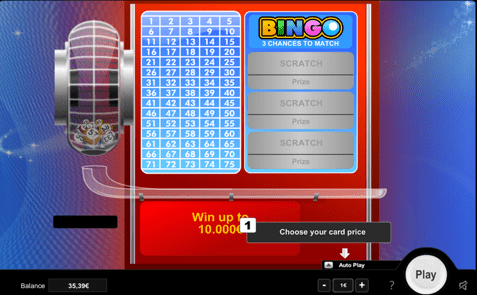 Once you start you get to spin the bingo wheel and numbers fall down. The balls then automatically light up their corresponding numbers on the table and then you have three chances to match these numbers.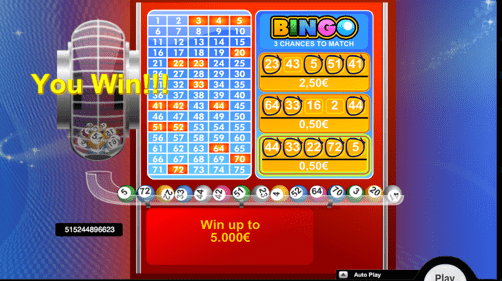 Which you can see I did… You need to scratch all numbers to win! I accidentally pressed to play again and won €2 more. So, it feels like chances of winning are relatively high on this game even if the winnings themselves are not the highest.
My overall conclusion is that scratch cards are super funny! You feel more involved than in a slot machine and the chances of winning seem to be the same as when playing Slots. I do feel like there are more cool graphics when playing Slots but that doesn't mean that these scratch games are anywhere near boring.
If you are looking to try some scratch cards – ]Register to Dealers Casino now!