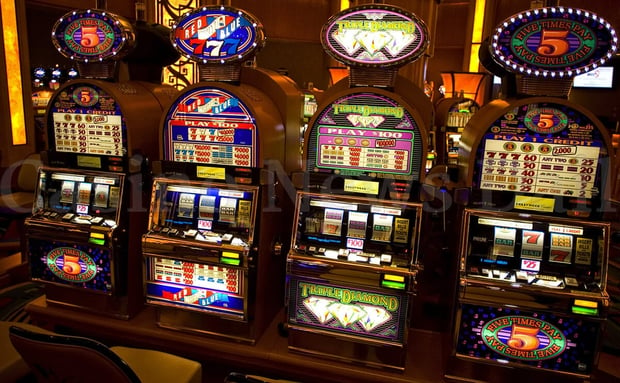 Part 26: Slot machines and scores

Anonymous

Published 03/04-2019
After a short weekend holiday where I took an active break from online casinos I am back and ready to rumble. I have €27.64 in my casino balance and I want to see how much I can increase it by playing three of the new slot machine games available in the Dealers Casino lobby. In each slot I choose to only gamble €5, so not too much but enough to get a quick insight to the games.
Rumble Rhino
This game is from PariPlay and is associated with Savetherhino.org. To be honest it is the first game I've ever seen that is cooperating with an environmentally friendly cause where 10% of all the profits go to help the endangered species. The introduction is really cosy and makes me think of the Lion King, and the game includes Mega Symbols and a Bonus Game but for €5 I don't think I will get to try it.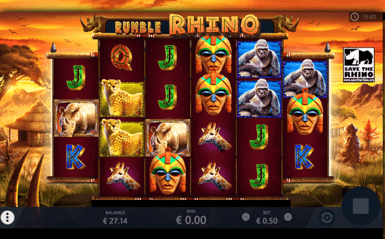 So here it goes (minimum deposit is €0.5 that equals a total of 10 spins).
Spin 1: I got some nice wilds and won €0.64
Spin 2: I spun some wilds again and won €0.5
Spin 3: SIX OF A KIND! Plus wilds equalled a win of €1.84… I was on a roll
Spin 4: Nothing
Spin 5: Nothing… damint did I jinx it
Spin 6: Nothing
Spin 7: Nothing
Spin 8: Bonus symbol but nothing happened…
Spin 9: Nothing
Spin 10: a €0.63 win
Overall opinion after 10 Spins: The music is fun as are the graphics, wins come by relatively often, it has an RTP of 95.52% and a Hit Frequency of 20.28% but as it always is with low bets, you never really win too much. The game is still quite entertaining though.
I would give it 7/10 Anonymous A's (maybe even 8 as it is a beneficiary for the endangered Rhinos that I loose.)
Contact
The second game I decided to try out is supplied by Play'n GO. This game has a Bonus Round Feature and a Super Bonus Round Feature. It includes three special symbols that can trigger the features or in other ways be beneficiary. The minimum deposit is €0.2 Which means I can bet 25 times: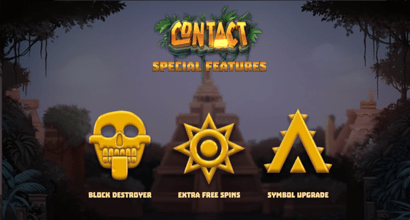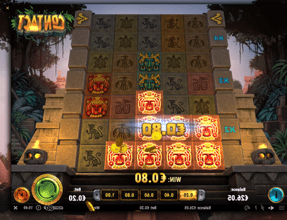 Spin 1: €0.8 Win
Spin 2: €0.08 win – that is ridiculous low.
Spin 3: Nothing
Spin 4 – Spin 9: Nothing
Spin 10: A wiiin! €0.28 x 2 (when you start winning the music gets more intense that is quite a fun feature)
Spin 11: Another win! €0.14 x 2 = a win of €0.28
Spin 12: Nothing
Spin 13: €0.9 win!
Spin 14-17: Nada
Spin 18: €0.08 win
Spin 19-21: Nothing again
Spin 22: €0.08 – I hate these miniscule winnings they just annoy me
Spin 23 – 25: Nothing
Overall opinion after 25 Spins: The music becomes slightly annoying after a little bit even if it changes slightly after you start winning. The game has an RTP of 94.5% but to be honest I don't find it that interesting, even if the Aztec temple graphics are quite cool. It just didn't really have anything super special and the minimum wins are ridiculous.
I would give this game a score of 4/10 Anonymous A's.
Book of Immortals
This is the last game I'm going to test out today… I've heard a lot of online casino members enjoy the "Books"-games. I think these games are just slot machines with "Book" in their title, but I thought I should give it a go myself before I pass any judgement.
This game is supplied by iSoftBet and includes special symbols and features. One of the special features is expanding Free Spins, that seems fun…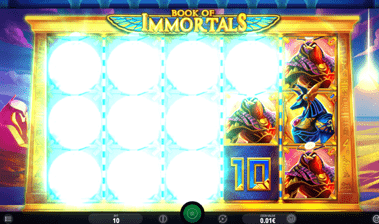 The minimum bet is a €0.01-coin value on 10 bet lines = €0.1. This means I have 50 Spins to try out.
Spin 1: I managed to spin a special symbol and win €0.29
Spin 2 – 4: Nothing
Spin 5: €0.05 Win, I mean I know I'm not betting a lot but that is a very very small win.
Spin 6: €0.08 win – my first win without any special symbols helping me out.
Spin 7 – 14: No win, and actually a bit boring… as there are no special animations when you don't win it makes it a bit boring to not win.
Spin 15; €0.08 win
Spin16: Nothing
Spin 17: BIG BIG WIN! I managed to spin the scatter that transformed my other symbols to paying symbols and I won on all the lines €1.4!
Spin 18: Nothing
Spin 19: the scatter once again helped me scoring a €0.13 win
Spin 20: €0.05 win
Spin 21 – 23: Nothing
Spin 24: €0.05
Spin 25-28: nothing
Spin 29: €0.18
Spin 30 – 35: Nothing
Spin 36: €0.13
Spin 37- 40: No wins
Spin 41: €0.05 win, It gets a bit tiering playing slots when you don't win often at all..
Spin 42-45: Nothing
Spin 46: €0.05 Win
Spin 47-49: No wins
Spin 50: WIN! €0.1
Overall opinion after 50 spins: it becomes a bit boring. I didn't have the game's own music on as I was listening to my own, but I don't think even the greatest music could've made it more interesting. I think I am partly to blame as of course the games become more fun when the bet is bigger and the chances to win are bigger. Oh well.. This game has a return to player of 96.31% but I can't say that you feel it.
I would give this game a score of 4/10 Annonymous A's.
Come to think about…maybe slots are just not my thing… hahahah
Whether or not you are a slot person, Dealers Casino has the games for you.